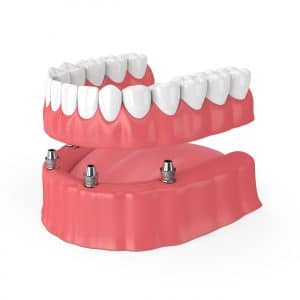 When we talk to our Dallas, TX, patients about addressing tooth loss with implant dentistry, most assume we use them to replace one missing tooth at a time. However, we can employ implant dentistry to secure lifelike and custom-made prosthetics, including bridges and dentures. How do dental implants offer secure and long-lasting dental prosthetics?
The Dangers of Severe Tooth Loss
When we lose several of our natural teeth, the impacts our ability to eat. We may be forced to rely on only soft foods, depriving our body of essential nutrients. We also may feel embarrassed about our appearance. Once your body recognizes that you have missing tooth roots, it suspends the flow of key nutrients to the jawbone. Without these nutrients, the bone tissue itself begins to break down, a process linked to further tooth loss and an aged appearance. Replacing your missing teeth helps you avoid many of these complications, and replacing them with dental implants could even stimulate the growth of jawbone tissue, preventing the further degradation of your jawbone and preserving your facial structure!
Qualifying for Implant Dentistry
If you come to us with missing teeth and want a full smile again, we will need to see if implant dentistry is right for you. First, we need to examine your smile and assess the strength of your jawbone. Losing jawbone tissue means you may not be able to support a new tooth. If this is the case, we may recommend a bone grafting procedure first. Our team will also look for signs of gum disease, as the advanced stage of the disease, periodontitis, could cause the new tooth to fail. Treatment to manage the issue will be necessary.
Implant Dentures and Bridges
For those with several lost teeth, we will insert multiple dental implants into one or both arches. The dental implants and jawbone will bond through a process known as osseointegration. After this occurs, your smile is ready for your prosthetic. We will create a bridge or denture based on detailed measurements and impressions taken of your smile. We craft them employing lifelike materials, to ensure your new teeth blend with your smile. We attach them to the dental implants, securing prosthetics that last for decades and never slip during meals or speech. If you have any questions about tackling your tooth loss, or about implant dentistry specifically, then please contact our team today.
Ready to Try Implant Dentistry?
Our team is ready to help you enjoy a full and beautiful smile with an implant-supported prosthetic. For more information on our missing tooth replacement options, schedule a consultation by calling the Viva Dental Family Dentistry office nearest you at (214) 337-7800 (Dallas) or (972) 437-6000 (Richardson).