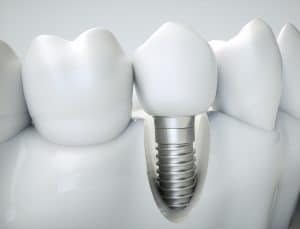 Losing teeth doesn't just mean the onset of cosmetic issues. Over time, the health of your smile, as well as your ability to eat and speak, could suffer due to tooth loss. In order to restore your smile's function and health, we may suggest a custom-made treatment option. With dental implants, we have a unique method of addressing both minor and severe tooth loss in Dallas,TX.
The Causes (and Dangers) of Missing Teeth
Missing teeth may occur as a result of serious injury to the smile or untreated cavities or infections. However, the most common cause is gum disease. Without treatment to manage the disease, periodontitis may develop, dissolving the tissues that connect your teeth and gums and leading to adult tooth loss.
When we lose teeth, the gaps in our smile may lead surrounding teeth to drift from position, causing misalignment. Missing teeth have also been linked to bite imbalance and strain on the jaw joints, which increases the risk of chronic teeth grinding (bruxism) and TMJ disorder. Those missing several teeth may have trouble speaking clearly, or could be forced to eat only soft foods, depriving themselves of vital nutrients.
Implant Dentistry
With implant dentistry, we address missing teeth by inserting a biocompatible titanium implant into the jawbone. Over a period of three to four months, the dental implant actually bonds with the jawbone, a process called osseointegration. Acting as new tooth roots, they stimulate the growth of jawbone tissue to prevent additional missing teeth or an aged appearance, all factors that arise due to the deterioration of jawbone density following tooth loss. Once the placement area heals and osseointegration takes place, we complete the new tooth with a custom-made crown, offering a lifelike restoration for the visible portion of your tooth. Right now, our office is offering a 50% off dental implant special! Call today for more details.
Preventing Future Tooth Loss
Once we place your dental implant and address your tooth loss, we want to help you maintain a whole and healthy smile. With routine care, you can avoid the loss of further teeth. Start with regular homecare, which means brushing and flossing daily to remove food particles and reduce the severity of plaque buildup. Next, be sure you attend routine checkups and cleanings, so we can monitor your oral health and remove plaque from your smile. If you have underlying oral health issues, such as gum disease, we suggest regular care to manage the issue.
Do You Have Questions About Implant Dentistry?
If you have lost teeth, then let's work together to restore your smile with advanced and lifelike replacement options. For more information on dental implants, schedule a consultation by calling the Viva Dental Family Dentistry office nearest you at (214) 337-7800 (Dallas) or (972) 437-6000 (Richardson).