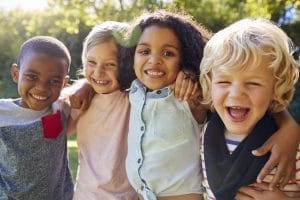 Your children are probably celebrating the start of summer break, enjoying a chance to get away from school and enjoy themselves. However, summer can also be a time when kids consume too many sugary snacks and drinks, or neglect proper brushing and flossing! In today's blog, your Richardson, TX, dentist is going to discuss how to help your little ones enjoy healthy summer smiles.
Healthy Snacks and Drinks
First, try to limit access to sugary snacks and drinks. Instead of stocking the fridge with sugary sodas and energy drinks, encourage them to drink more water! Also, remember that fruit juice, while healthier than soda, still contains a lot of sugar. Instead of filling the cabinets with chips, snack cakes, and candy, offer low-fat yogurt, fresh fruit, veggies, nuts, cheese, and other healthy snack options! These items not only reduce the risk of cavities, but also improve overall health and help your little ones feel more alert and energized.
Brushing and Flossing
Proper brushing and flossing needs to happen every day, regardless of holidays or weekends (or summer breaks). Your kids need to brush when they wake up and before they go to bed, with each session taking about two minutes. Children three and up need to use a toothpaste that contains fluoride. Also, flossing needs to take place before bed to remove the bits of food a toothbrush cannot reach. You may need to assist your toddler-aged children, and monitor your older kids. Talk to our team about our Sonicare Kids' electric toothbrush, as well as fun apps and programs to make the process fun for little ones!
Summertime Appointments
In order to maintain optimal oral health, kids and adults alike to see the dentist every six months for a checkup and cleaning. If you schedule an appointment soon, then your next one should line up with their holiday break, meaning no need to miss school or after-school activities. During this visit, we will perform a through checkup to assess the state of your child's oral health and if necessary, recommend treatment for developing cavities or gingivitis. We will also clean the teeth, which involves removing plaque buildup, a process that reduces the risk of cavities and periodontal health issues, and also offers brighter teeth and fresher breath! If you have any questions about children's dentistry, or if you're ready to schedule a visit for your little one, then contact our team today.
Schedule Your Child's Visit Today!
If your little ones need a visit, be sure to schedule a checkup and cleaning today. For more information on our approach to children's and family dentistry, schedule a consultation by calling the Viva Dental Family Dentistry office nearest you at (214) 337-7800 (Dallas) or (972) 437-6000 (Richardson).