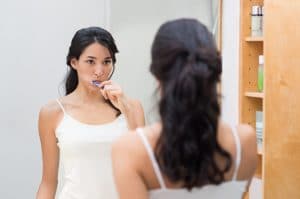 Caring for our smiles from home is essential for protecting teeth and gums from cavities and periodontal troubles, including gum disease. In today's blog, we're talking about steps our Richardson, TX, patients can take to improve brushing and flossing, protecting the health and appearance of the smile. Find out what you can do to enjoy a healthier smile!
Brushing and Flossing Your Teeth
Choose the Right Toothbrush: The toothbrush you choose matters. Many people tend to brush too hard, which can irritate the gums and cause them to recede. The outer enamel, which protects your teeth from cavities, could also become weakened. To avoid harming your smile as you try to protect it, consider using a toothbrush with soft bristles. You can choose electric or manual, as you long as you opt for soft bristles and clean your teeth for at least two minutes, once when waking up and again right before going to bed.
Pick a Fluoride Toothpaste: When you go to the store, you're inundated with choices. However, when it comes to toothpaste there are a few factors to look for. First, make sure the packaging contains the American Dental Association's Seal of Acceptance. Also, be sure it contains fluoride, which helps strengthen your tooth enamel against the threat of cavities. Also, beware whitening toothpastes, which may contain abrasive agents that could inadvertently damage your teeth.
Floss Every Night: You can use a pick, tape, or a water flosser, just as long as you're flossing thoroughly every night before bed. You should go up and down the length of every tooth, dipping briefly below the gum line in a "c" motion to remove any trapped food particles. When you floss, you limit your risk of gingivitis and gum disease, protecting your smile from bleeding gums, and even adult tooth loss.
Consider a Tongue Scraper: We sometimes suggest a tongue scraper for our patients, and even have them available at our office. A tongue scraper is a small plastic device that allows you to remove bacteria from your tongue, which helps improve oral health (as well as your breath). If you have any questions about using a tongue scraper, or if you would like to talk about proper brushing and flossing for you and your family during your next checkup and cleaning, then please contact our team today.
Ready for Your Checkup and Cleaning?
With preventive dentistry, we help people of all ages enjoy optimal oral health with checkups and cleanings. For more information on preventive dental care, as well as the benefits of routine six month visits, schedule a consultation by calling the Viva Dental Family Dentistry office nearest you at (214) 337-7800 (Dallas) or (972) 437-6000 (Richardson).