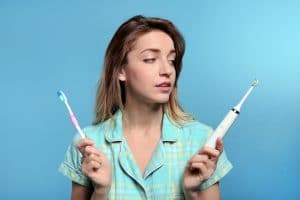 When you head to the store to find a toothbrush and toothpaste, the sheer variety of options available can be overwhelming. Which kind do you need? Do they really offer the various benefits promised? How do you choose? Well, don't worry! Your Richardson, TX, dentist has a few tips to make the selection process much easier, and a few instructions for better brushing and flossing!
What to Look for in a Toothbrush
In the debate between manual and electric brushes, we're firmly on the side of whichever option you feel comfortable using. As long as you brush regularly and correctly, either option is adequate for safeguarding your smile. We do have Sonicare electric toothbrushes available for kids and adults alike for purchases, and will also send home free manual toothbrushes following patient visits.
When choosing a toothbrush, we urge you to select a version with soft bristles. Often, people brush too hard and if they do so with hard or medium bristles, this could inadvertently damage tooth enamel or injure the gums, leading to gum recession. Also, look for the American Dental Association Seal of Acceptance on the packaging.
Picking the Best Toothpaste
When choosing a toothpaste, always look for two things on the packaging. First, again watch for the American Dental Association Seal of Acceptance. Second, look for fluoride. Your toothpaste should always contain fluoride, as this naturally occurring mineral helps strengthen tooth enamel, which safeguards teeth against cavities and infection. We also recommend caution when choosing pastes that offer whitening benefits. Did you know that some whitening toothpastes may contain abrasive agents? While these do erase teeth stains, they can also damage the outer enamel, which compromises oral health!
Using Them Correctly
Now that you've picked the right toothbrush and paste, how do you use them correctly? Each night and in the morning, apply a pea-seized glob of toothpaste to your brush's bristles. Then brush the top and front facing side of the side and rear teeth with a back and forth motion. Clean the front facing teeth in a circular pattern. The entire session should take no less than two minutes, ensuring you reach every available surface and adequately remove all food particles. Then rinse your mouth with water. Of course, remember to floss afterward as well! If you have any questions about routine homecare, then please contact our team today!
Schedule a Dental Exam Today
With a routine exam, we can let you and your kids know if you're taking proper care of your smile from home. For more information on preventive dentistry, schedule a consultation by calling the Viva Dental Family Dentistry office nearest you at (214) 337-7800 (Dallas) or (972) 437-6000 (Richardson).