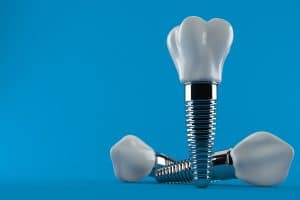 Do you have missing teeth and worry about the health and appearance of your smile? As we grow older, the chances of losing one or more of our natural teeth increases. Leaving these gaps in your smile could lead to serious oral health complications, not to mention negative impacts on your smile's appearance. In order to help people in Dallas and Richardson, TX, enjoy whole and beautiful smiles, we may prescribe implant dentistry, an advanced and long-lasting solution to minor and severe tooth loss. Let's learn a little about how we prepare and place these new teeth, and what steps you can take to ensure they last for many years to come
The Dangers of Missing Teeth
What makes tooth loss such a danger for your smile? Obviously, having gaps in your smile can be embarrassing for your overall appearance, but missing teeth also place a serious strain on your jaw joints, which increases the risk of TMJ disorder and bruxism. In addition, surrounding teeth may actually drift from position, leading to misalignment. Poor alignment has been linked with a greater risk of tooth decay and gum disease, as thoroughly brushing and flossing becomes much more difficult. The greatest danger, however, is the impact missing teeth have on your jawbone structure. Once the body takes note of the missing tooth roots, it no longer sends doses of calcium and phosphorus to the jawbone. Without these key nutrients, the bone tissue actually begins to break down, a process that could lead to further tooth loss and in some cases, an aged appearance. By addressing your lost teeth with implant dentistry, you can help avoid these complications, and stimulate the growth of your jawbone tissue. You can also enjoy a full and beautiful smile, one that instills confidence whether you're heading into a job interview, or just meeting someone new.
Planning The Placement Process
First, we need to assess the cause of your lost teeth and the state of your smile. If you have periodontitis, the advanced stage of gum disease, then you need treatment to manage the disease. Otherwise, your new teeth could fail. We will also need to examine your jawbone structure. If you've lost jawbone density as a result of lost teeth, then you may not be able to support a new tooth unless we first perform a bone grafting procedure. We will work with you to make sure your smile is ready for implant dentistry, from answering questions and addressing concerns, to strengthening your jawbone tissue and managing gum disease.
If this option is right for you, we will use advanced digital technology to examine your smile and choose the optimal placement area. In an oral surgical procedure, we will insert the dental implant, a screw-like device made from titanium, directly into the jawbone. Osseointegration will then take place, which bonds the jawbone and dental implant, securing it like a natural root. This process typically takes about three to four months to complete. Once the area heals, your new dental implant will be accepted by the body as a new tooth root, which means your new tooth could last for decades, possibly even a lifetime, with proper care and attention. Compare that to traditional solutions for lost teeth, such as dental bridges, which often need to be replaced every 10 to 15 years.
Restorations
We've discussed the root portion of your new tooth, but what about the visible part, what people see when you smile? For single tooth options, we will take detailed impressions of the smile to create a crown that fits comfortably in your smile. After we attach an abutment to the dental implant, we will add the crown. Created from ceramic, the crown will be able to mimic the translucent nature of tooth enamel. We can even shade it to better match surrounding teeth. Ceramic's strengthen and durability means your new restoration can absorb bite forces. Even though they contain stain-resistant properties, you will need routine care to help keep your restoration bright and ensure an esthetically-pleasing appearance. We will also discuss routine care to help protect your new teeth from the impacts of gum disease or other serious oral health concerns, such as daily brush and flossing, attending checkups and cleanings, and watching for signs of trouble, such as sore or bleeding gums. With the right steps, you can safeguard your teeth and also protect your remaining natural ones as well.
What If I've Lost Several Teeth?
What if you've lost more than one tooth? For more minor situations, we may create a custom-made dental bridge, which we attach to your new tooth roots. This means we don't need to remove natural structure from surrounding teeth, and your prosthetic can last much longer than a traditional bridge. If you've lost a significant portion of your teeth, then we can insert between six and eight implants per arch to support a custom-made denture, providing a fixed prosthetic that doesn't need to be removed for soaking or cleaning. Again, an implant-supported option will last much longer than a traditional removable denture. If you've lost one or more teeth, don't continue to live with embarrassing tooth loss, letting your smile's health deteriorate. Instead, contact our team for a consultation. We will examine your smile carefully, answering your questions and helping you choose the best option for restoring your smile's health, function, and beauty. If you have any questions or concerns about addressing tooth loss, or about the process of placing and restoring dental implants, then contact our team today. We would love to help you enjoy a full and stunning new smile!
Do You Have Missing Teeth?
Don't let lost teeth have a negative impact on your smile's health, appearance, or function. With a custom-made solution secured with dental implants, we can offer long-lasting and lifelike solutions for the gaps in your smile. For more information on avoiding lost teeth and replacing missing ones, then schedule a consultation by calling the Viva Dental Family Dentistry office nearest you at (214) 337-7800 (Dallas) or (972) 437-6000 (Richardson).