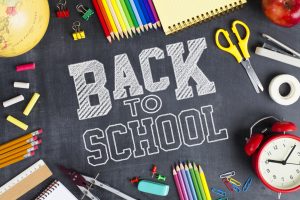 Next week, children from across Richardson and Dallas, TX, will be returning to school. Families will be heading to the store to pick up school supplies, new clothes, and registering their children for the upcoming year. However, we want to make sure that area families don't forget their children's smiles! Our office is taking part in a back-to-school health fair on Sunday, August 11th, offering kids and families free dental care, raffles, and more, to help prepare little smiles for school! Find out more about this event in today's blog, as well as information on the importance of routine checkups and cleanings, and proper brushing and flossing!
The 14th Annual Health Fair
We will be taking part in the 14th Annual Health Fair on Sunday, August 11th from 2pm until 5pm at St. Barnabas Church on 1220 West Belt Line Road in Richardson, TX. Our office will be providing little ones heading back to school with a free checkup, free oral cancer screening, and a raffle to win a free Kids Sonicare Toothbrush! The Network of Community Ministries will also be there with their Tools 4 School program, handing out free backpacks and school supplies alongside our office and other healthcare providers.
If you bring your child's immunization records, then they can receive free immunizations, which are being offered for kids and teens alike. The event will also feature bicycle helmet giveaways from the Fire and Police Department, hearing and vision screenings, blood pressure and cholesterol screenings, and doctors and dermatologists on hand to answer questions. We're proud to take part in this event and help families in the area receive the care and supplies needed to ensure they start the school year right. You can find more information here or feel free to contact our office with any of your questions!
The Value of a Checkup and Cleaning
The American Dental Association suggest a checkup and cleaning every six months for children aged two and up, as well as teens and adults. We agree! The checkup is a chance for our team to offer detailed examinations, including the use of digital x-rays and intraoral camera to obtain a detailed picture of your oral health. Our team looks at your teeth for indicators of cavities and infections, and the gums for signs of inflammation or gum disease. If we see wear and friction on the teeth, this could point to chronic teeth grinding, or bruxism. We also look for the presence of TMJ disorder or oral cancer. When we identify problems in the early stages, we can treat them before complications arise that could threaten the health and stability of your smile.
Patients of all ages should have their teeth cleaned as well. Having your teeth cleaned removes all plaque and tartar (calcified plaque) from the surface of the teeth. A bacterial byproduct, plaque forms when bacteria break down food particles. The buildup could weaken tooth enamel and inflame the gum tissue, increasing the risk of cavities and gum disease forming. The procedure takes only a few minutes and protects your smile's health, while also brightening the teeth and offering fresher breath.
Care at Home
Our team likes to take time to educate our patients about proper brushing and flossing. With the school year comes a chance to offer more structure in your child's life, and make sure daily brushing and flossing becomes part of that structure. Like adults, kids need to brush when they wake up and again before bed. Kids ages three and up need to use toothpaste that contains fluoride, and each session should take about two minutes. You will need to assist baby and toddler-aged kids, and may want to monitor older ones to make sure they aren't skimping on their brushing! You can use a manual or electric model, as long as your little ones are properly cleaning their teeth before they go to bed. Children also need to floss before bed, which removes the bits of food that a toothbrush's bristles cannot reach. Younger kids may have an easier time with a floss pick. Teens should use floss tape. Be sure they floss up and down the sides of each tooth, dipping below the gumline in a "c" motion to remove trapped food particles. We're happy to show your little ones examples of proper flossing and brushing when they attend their back-to-school checkup and cleaning visits.
Better Snack Options
To improve smile health be sure you offer your kids healthier snack options. For example, instead of sodas, sports drinks, and energy drinks, offer water, which contains no harmful sugars and acids and keeps you properly hydrated. Healthier food choices, such as fresh fruits and veggies, nuts and cheeses, and sugar-free gum, provide a delicious snack without putting smiles at risk. If you have any questions about healthier snack and drink options, or if you're ready to schedule a back-to-school visit for you and your little ones, then contact our team today. Remember, if you schedule one now, the next visit should happen during winter break, with the following visit just in time for summer break. You can help your little ones enjoy optimal oral health without missing school or conflicting with extracurricular activities! If you have any questions or concerns, remember that we're always available to help and talk about smile health, so please feel free to contact our team today.
Schedule Your Exam and Cleaning Today
Routine care, both at home and in the dentist's office, is key to protecting smiles of all ages from cavities, periodontal issues, and more. We want to make sure families in our community enjoy healthy smiles in time for the new school year. We hope to see you and your little ones at the health fair on Sunday. If you're unable to make it, be sure to schedule your exam soon! For more information on our preventive treatment options and our approach to children's dentistry, then schedule a consultation by calling the Viva Dental Family Dentistry office nearest you at (214) 337-7800 (Dallas) or (972) 437-6000 (Richardson).