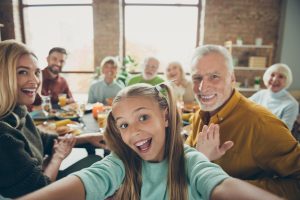 In just a couple weeks, the Thanksgiving holiday will be here! After that, people will be getting ready for the winter holidays, like Christmas and Hanukkah. This season means plenty of gatherings with friends, family, and co-workers. We understand that people want to look their best at these events, and that includes their smile. In today's blog, we would like to discuss how cosmetic dentistry can help brighten smiles in Richardson and Dallas. With cosmetic dentistry, we can help you obtain a stunning smile just in time for the holidays!
What Causes Teeth Stains?
What causes these unsightly brown and yellow stains to appear in the first place? Well, a number of factors can and they are often linked to our overall oral health. Understanding these factors can help you make better decisions for your oral health and smile beauty. For example, when we consume certain foods and drinks, particles that remain on and between the teeth will be broken down by bacteria. During this process, oral acidity elevates and the teeth become coated in a bacterial byproduct known as plaque buildup. Over time, plaque hardens into tartar and can only be removed via a professional dental cleaning. Plaque buildup not only weakens outer enamel and inflames gum tissues, boosting the risk of cavities and gum disease, but the layers of buildup could also make stains more visible. Other factors behind discoloration in smoking and tobacco use, fluorosis, exposure to tetracycline at a young age, or even injury to the teeth. The factors behind your discoloration will help us decide which treatment to administer and brighten your smile.
Watch for Sugary and Starchy Foods!
With the holiday season here, that means there will be plenty of sugary favorites to tempt us, such as pies, cookie, cakes, and more. Starchy favorites, such as mashed potatoes, sweet potatoes, muffins, biscuits, and stuffing, are also popular. What do these food items have in common? Well, sugar and starch tend to be a favorite for bacteria to consume and both can adhere to the teeth unless removed with routine homecare. To help prevent plaque and discoloration, try to drink water with your meal to rinse away sugary and starchy particles. Eat fresh veggies, like carrots and broccoli, which can help scrub your teeth as you consume them. Finally, excuse yourself after your meal to brush and floss, which removes these particles and helps reduce the severity of plaque.
Two Teeth Whitening Options
Now that you know how to help reduce the severity of discoloration, what if you already have embarrassing stains on your teeth? Well, then you may need professional teeth whitening. While there are plenty of strips, rinses, and toothpastes that offer whitening agents, be careful. Strips don't offer long-lasting results, and could cause tooth sensitivity. Whitening toothpastes tend to contain abrasive agents that could inadvertently damage your outer enamel. However, our professional options are designed to brighten smiles without causing serious sensitivity or damaging tooth enamel.
Our in-office option provides fast results, with a brighter smile in as little as two hours. We start by placing a protective layer over your lips and gums, and then applying a bleaching gel to the teeth. Using a curing light, we activate the gel to start breaking up the stains. The process is repeated until you obtain optimal results. For more substantial results, we may suggest our home-based option. You come to the office briefly so we can take impressions of your smile and create a set of plastic trays. We then send you home with the trays and gel. At home, you fill the trays with gel and wear them for about 30 to 45 minutes each day. The trays help ensure the gel is spread evenly across your teeth. Optimal results usually take between a week and ten days. For many, smiles could be brightened by several shades. You then have the option of keeping the trays and leftover gel should you need touch-ups down the road.
Benefits of Better Oral Hygiene
While whitening is a great way to remove teeth stains, what about the daily steps to help control plaque and protect teeth from not only discoloration, but the risk of cavities and periodontal problems too? Better oral hygiene starts as soon as you wake up. You should brush your teeth for about two minutes, using a toothbrush with soft bristles and a toothpaste that contains fluoride. You can use electric or manual, just as long as you take time to properly clean your teeth. Before bed, you should brush again thoroughly and also floss. Using tape, a floss pick, or even a water flosser, you need to thoroughly clean in between your teeth, removing the bits of food a toothbrush alone simply cannot. These steps help protect your overall health, while also ensuring you enjoy a brighter smile and fresher breath in the process. Part of your oral hygiene regime should also include a visit every six months. During your checkup, we will examine your smile for signs of trouble and offer treatment to keep these issues from growing worse. A cleaning then completely removes all plaque and tartar, significantly improving overall oral health. If you have any questions about keeping your smile bright through the holiday season, or about our cosmetic treatment options, then please contact our team today to learn more. Remember, you can use your 2019 dental benefit before they expire!
Do You Have Questions About Cosmetic Dentistry?
If you would like to attend events with a brighter smile, then we can offer in-office and at-home teeth whitening to remove stains and improve overall smile beauty. Whether you have minor discoloration or severe staining, we can help. In fact, we can even mask severe staining with dental bonding or lifelike porcelain veneers! For more information on our cosmetic treatments, then please schedule a consultation by calling the Viva Dental Family Dentistry office nearest you at (214) 337-7800 (Dallas) or (972) 437-6000 (Richardson). We're happy to serve families in the area, and help them enjoy optimal oral health and beautiful smiles.