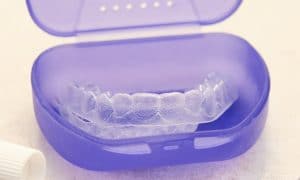 When you need to straighten crooked teeth, you may have a wide range of options to choose from. Today, those options often include clear orthodontic aligners, which are designed to realign crooked teeth to position them in ways that allow your bite to function better, your smile to look more appealing, and your oral health to be more easily maintained. For many patients, the most beneficial solution is the Smile Direct, which is an advanced clear aligner system that is custom-designed to your needs using highly precise and accurate digital technology. Designed to make orthodontic treatment much simpler and more streamlined, as well, your Smile Direct aligners can be worn without the need for routine monthly visits. After reviewing your treatment plan to ensure it will achieve the appropriate results, we can provide you with clear aligners that will guide the direction of your new smile in as few as six months.
What Is Smile Direct Club?
Joining Smile Direct Club means gaining access to a variety of customizable clear aligner solutions designed to address your specific oral health needs. The aligners are designed according to a personalized 3D scan of your teeth and dental ridges, which helps accurately gauge the specific type and extent of your tooth misalignment issues. This scan and the digital measurements of your bite, along with the precise diagnosis of your malocclusion, are used to design your Smile Direct aligners after a comprehensive case review of your smile plan. Then, your aligners will be sent, along with a premium teeth-whitening solution that you can also apply using your aligners.
This helps significantly streamline your orthodontic treatment in several important ways. The 3D scan of your teeth and dental ridges means that you won't need to have a physical mold made, using messy, uncomfortable dental molding material. The 3D digital scanning technology also provides a higher level of precision and accuracy when diagnosing the specific extent of your malocclusion and the most appropriate path of movement to guide your teeth into more functional positions. The digital design process also makes it possible to create aligners that can achieve significant teeth-straightening results in much less time than traditional orthodontic treatment. For many patients, that can be in as little as just six months.
What Are the Benefits?
There are many benefits to choosing to straighten  your crooked teeth with Smile Direct Club instead of more traditional orthodontic solutions. The clear aligners are made from BPA-free, clear acrylic that's designed to remain discreet when worn over your teeth. Unlike conventional braces, which require the use of brackets that are semi-permanently bonded to your teeth and arch wires that tighten and bring them together, Smile Direct aligners simply slip over your teeth. They remain virtually undetectable, even upon close inspection, and you can temporarily remove them for meetings, pictures, and other close-up encounters.
Removing your Smile Direct aligners also provides several other significant benefits – you can eat your favorite foods and brush and floss your teeth without having to work around the brackets and wires of traditional braces. In addition to making your treatment time shorter, Smile Direct aligners can also make it more comfortable and enjoyable by eliminating the common restrictions on certain types of foods, or the need for additional measures when keeping your teeth clean and healthy.
What Does Treatment Involve?
The good thing about treatment with Smile Direct Club aligners is that it's designed to work according to your schedule. We can take your initial 3D scan and impression in our office, or send you a remote impression kit that allows you to take it yourself. Then, we'll carefully review the scan and impression to build the most appropriate path of movement for your crooked teeth. This path of movement will guide the creation of your series of clear aligners, with each aligner designed to guide your teeth through a certain phase of it. When you change them for the next aligners in the series, the movement will continue until the final aligners complete the path and you can enjoy your new, straighter smile.
The goal of Smile Direct is to make it easier for patients with tooth alignment concerns to address those concerns in a faster, more convenient, and more comfortable manner. You should also be able to show off your new smile, which is why your treatment kit will include a premium teeth-whitening system designed specifically for you to brighten your teeth at home. The kit also includes a set of custom aligners and a supply of professional strength teeth-whitening gel, which the aligners allow you to apply evenly over your teeth.
Are You a Good Candidate?
Like most smile journeys, your treatment with Smile Direct should begin with a comprehensive examination by your dentist or orthodontist to determine if it's the appropriate treatment for you. Certain types of malocclusion, particularly in severe cases, may need more direct treatment with traditional orthodontics, or require additional treatments to address other related oral health issues (such as bruxism and/or TMJ disorder). If your tooth misalignment is not severe, however, then you may have a good chance of qualifying for Smile Direct aligners.
If you qualify, we'll help guide you through the process from beginning to end, including taking your 3D digital impressions in our office, if you choose. We'll also be happy to answer any questions you may have regarding treatment, what to expect, and how you can benefit daily from the use of the custom-designed clear aligners. For more information about Smile Direct, feel free to call our office and speak with one of our staff today, or mention Smile Direct aligners during your next routine visit to our office!
Learn More About Smile Direct Club
With advanced Smile Direct, you can enjoy a straighter smile with more comfortable, discreet, and advanced treatment, and often in less time than with traditional orthodontic braces. For more information, schedule a consultation by calling the Viva Dental Family Dentistry office nearest you at (214) 337-7800 (Dallas) or (972) 437-6000 (Richardson).