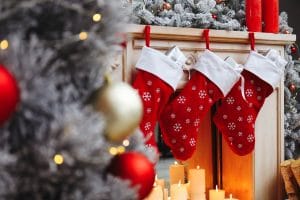 Have you finished your holiday shopping yet? We know finding the right gifts and stocking stuffers for your friends and family can really be difficult. Well, your Dallas, TX, dentist would like to help! In today's blog, we're going to talk about gift and stocking stuffer ideas for your friends and even your little ones. We would also like to discuss treatment options to help protect your teeth and gums throughout the holiday season, so you start 2020 with optimal oral health and a bright smile!
Stocking Stuffers and More
Christmas is a time when kids are inundated with cookies, chocolates, and other sugary sweets that do a lot to promote tooth decay and painful toothaches. Now is a perfect time to counter this in a fun way! When out shopping, there are often toiletry kits for kids with their favorite cartoon characters on them, and these often include toothbrushes and toothbrush holders and small cups to rinse with. You can also buy individual toothbrushes and toothpastes, as well as floss picks in fun colors and shapes.
There are also electric toothbrushes for kids, which could make the process more fun for children and may include links to download fun apps to help with the process. We even have some for sale in our office, along with tongue scrapers and other fun items. These also make great presents for the grown-ups in your life. You could also consider offering candy alternatives, such as sugar-free gum, fresh fruit, nuts, small toys and games, and other items that don't contain lots of sugar! Small mouthwashes and rinses are fun as well, especially for children. Remember, candies that contain caramel, or sticky ones like candy-canes, tend to leave sugar particles stuck on the teeth and increase the risk of cavities. If y must give candy, opt for regular chocolate instead of gummy, chewy ones that could adhere to the teeth.
Gift a Brighter Smile
We have take home whitening kits available in our office as well, which you can purchase for people in your life, giving them the gift of a brighter smile. In addition, you could also treat yourself to one! Not to mention, you can talk to our team about scheduling a visit for a consultation. We can examine your smile to find the best options to remove stains and address other issues with your smile's health and beauty. We will discuss your smile goals and help you use your 2019 insurance benefits before they expire. We would love to help you greet the New Year with a brighter and healthier smile!
Protect Your Smile Throughout the Holiday Season
While on the subject of the holidays, we would like to remind you that sugary and starchy foods, and drinks with high amounts of sugar, leave behind particles when we consume them. Over time, bacteria will break down these particles in a process that elevates overall oral acidity and coats the teeth in layers of sticky plaque buildup. This buildup and oral acidity could begin to weaken our outer enamel and inflame the gum tissues, increasing the risk of tooth decay, gingivitis, and gum disease, causing painful symptoms and threatening the health and stability of your smile.
To protect your smile, try to limit your consumption of sugary foods and drinks, and remember that many holiday favorites, such as biscuits, muffins, cakes, cookies, stuffing, and mashed potatoes contain high amounts of starch, another ingredient that feeds harmful bacteria and leads to plaque and other complications. When you enjoy your family's holiday get-togethers, drink plenty of water and consume fresh fruits and veggies, which often help scrub away plaque and food particles as you consume them.
Each day, you should also brush your teeth for two minutes in the morning and again at night, and use a toothpaste with fluoride when you do. Also, be sure you floss before bed as well, as this reaches what a toothbrush alone cannot. This goes for toddlers, kids, teens, and adults too! With the right steps, you can safeguard your smile throughout the holiday season and into the New Year!
See Us for Treatment
Schedule a visit now to see us before the holidays start. We can perform a checkup and cleaning to remove plaque and help you attend events with a brighter smile and fresher breath. If we find damaged or decayed teeth, we can often address the issue in one visit. Using advanced technology, we can place a metal-free and lifelike filling in one visit, and even create and place a custom crown in one sitting. For cosmetic issues, we also have in-office teeth whitening and cosmetic bonding and contouring, which also takes one sitting to complete. For children, we have preventive treatments, such as fluoride varnish and dental sealants, which can help prevent the onset of tooth decay and keeps their smiles healthy. Sealants last for years, and we can re-apply fluoride treatments during regular six-month checkups and cleanings. We can restore the health and beauty of your smile now, and if necessary, begin treatment again in 2020 once your new benefits become available to use. We also have financing options and more for people without dental insurance or a flex spending account. If you have any questions about caring for your smile, or about choosing fun stocking stuffers for the loved ones in your life, then contact our team today. Let's work together to ensure you and your family obtain your best possible smiles!
Do You Want a Healthier Smile in 2020?
A healthy and beautiful smile makes a great gift! If you would like to learn more about our stocking stuffer ideas or even our cosmetic treatments, then be sure to talk to our team today. We have tips and even items available for purchase in our office. We would love to work with you and your family to help you enjoy a better smile in 2020! For more information, schedule a consultation by calling the Viva Dental Family Dentistry office nearest you at (214) 337-7800 (Dallas) or (972) 437-6000 (Richardson). We're proud to serve residents of Dallas, Richardson, and surrounding communities!