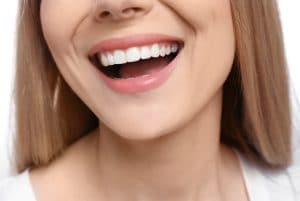 Over time, a number of different factors, including what we eat and drink, could lead to unsightly stains forming on the surfaces of our smiles. These stains could be a source of embarrassment, and may even cause you to want to hide your smile from the world. Instead of simply hiding your smile, what if you contact your Richardson, TX, dentist to discuss possible solutions? In today's blog, we're going to look at our in-office teeth whitening treatment, and also discuss other options to mask discoloration and help you enjoy your brightest, and best, possible smile!
Our In-Office Teeth Whitening Procedure
Did you know that our in-office procedure could brighten smiles by several shades in as little as one to two hours, tops? When you see us, we will start with an initial exam, to assess the cause and severity of your discoloration. From there, we can decide if this is the best option to brighten your teeth. If so, we then place a protective covering over the lips and gums. Next, we apply a powerful bleaching gel to the surfaces of the teeth, spreading it out evenly. A special curing light will be employed to activate the bleaching ingredients, and begin breaking up stains. We then prepare the process, applying gel and using the light, to continue erasing yellow and brown stains, helping you enjoy a brighter smile in just a single visit. For people in need of quick results before a special event, date, or job interview, this makes a fantastic option. For those with more severe discoloration, we can also discuss treatment with custom trays and gel, which allows you to brighten smiles at home over a period of one to two weeks.
What Causes Teeth to Become Discolored?
Understanding the cause of your teeth stains means you can take steps to help protect your smile from future discoloration. The most common factor is the foods and drinks we choose. For example, beverages with dark pigments, such as coffee, tea, red wine, and soda, could cause discoloration to appear. Foods (and drinks) high in sugar and starch also provide particles for bacteria to consume, a process that increases oral acidity and coats the teeth in plaque buildup. Not only is plaque buildup linked to higher risks of tooth decay and gum disease, but this sticky buildup also makes discoloration more visible. Other causes include lack of proper brushing and flossing and the use of cigarettes and other tobacco products, which in addition to impacting smile beauty, is also a factor in the onset of several different forms of cancer.
What About Store Bought Options?
Remember, if you want professional level results, don't settle for over-the-counter options, such as strips or toothpastes, which don't offer the same level of whitening. In fact, the results rarely last long, and these options have been linked to tooth sensitivity and other complications.
What If I Have Intrinsic Stains?
The forms we mentioned above are known as extrinsic, meaning they form on the surface of the teeth. However, if they form beneath the outer enamel, making them hard to reach and remove, then this is referred to as intrinsic. Possible causes may include the use of tetracycline as a young child, as well as injury to the face or jaw or fluorosis in childhood. While our whitening system may not be able to remove them, we still have steps to cover them and brighten smiles. For example, dental bonding uses composite resin, the same material employed in tooth-colored fillings, to brighten teeth in one visit. The treatment also helps reshape teeth or even correct minor damage. Another treatment is porcelain veneers, thin restorations made from porcelain that cover the front and sides of the teeth. Again, this option can instantly correct a number of esthetic issues, and we may combine both bonding and veneers to help brighten teeth and improve overall smile beauty, often in as little as one to two visits.
Keeping Your Newly Brightened Smile Vibrant
Following treatment, you'll feel proud of your smile and will be eager to keep your smile bright and beautiful. In order to ensure your results last for months, or longer, you need to take steps to alleviate the onset of staining. First, try to cut back on foods and snacks high in sugar and starch, and drinks that contain sugars and dark pigments. At home, be sure you brush your teeth when you wake up and again going to before bed for two minutes each session. Also, make time to floss each night before bed as well. This removes food particles to reduce the severity of plaque buildup. You also need to have your smile examined and cleaned every six months, so we can identify cosmetic issues and also remove plaque buildup with a thorough cleaning. In addition to keeping your smile whiter, these steps also have benefits for your overall oral health, as removing plaque and enjoying a healthier diet lowers the risk of tooth decay, gingivitis, gum disease, and other concerns that could lead to painful symptoms or even missing teeth.  If you have any questions about maintain optimal oral health, or about improving the overall beauty of your teeth, then please contact our team to schedule a consultation and start your journey to a more attractive smile!
Do You Want A Brighter Smile?
We know how important a bright smile can be for our patients, which is we offer treatment options to remove discoloration and help you enjoy your best possible smile. We also have treatments to help boost the health of your smile and prevent common concerns, such as cavities or gum disease. Our treatments can help people of all ages, from children to adults, and allow families in our community to enjoy healthy smiles.  For more information on improving the beauty of your smile and removing teeth stains, then schedule a consultation by calling the Viva Dental Family Dentistry office nearest you at (214) 337-7800 (Dallas) or (972) 437-6000 (Richardson). We're proud to serve residents of Dallas, Richardson, and surrounding communities!