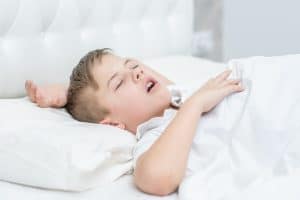 Do you every notice your child breathing primarily through his or her mouth during the night? Mouth breathing and snoring could be signs of difficulty breathing during sleep, an indicator that treatment may be needed to clear airways, as this could have major negative impacts on their experiences at home and in school. In today's blog, your Richardson, TX, dentist looks at when to bring your little one in for one of our pediatric evaluations, and what treatment options we may recommend.
Mouth Breathing and Airway Obstruction
When your little one breathes primarily through his or her mouth, this could be the result of problems with the formation and growth of the oral structures and jaw, as well as the alignment of the teeth. Over time, this issue is linked to bad breath, dry mouth, and an increased risk of gingivitis, gum disease, tooth decay, and dental infections later in life. The issue could also cause your child to sleep poorly, waking up frequently or tossing and turning. Over time, this lack of sleep could begin to impact behavior and performance in school.
Other Possible Warning Signs
You should bring your little one in for a pediatric evaluation, in which we carefully examine the teeth, gums, jaw, and oral structures with advanced technology. Along with mouth breathing, let us know if your child experiences frequent tantrums or trouble concentrating at school. Lack of proper sleep could lead to issues misidentified as ADD or ADHD. At home, your child could feel tired during the day, have trouble going to sleep or waking up, toss and turn in the night, sleep walk or talk, experience night terrors, or wake frequently. Additional warning signs include changes to your child's pallor or issues with being tongue tied.
Long Term Negative Impacts on Overall Health 
Mouth breathing could potentially mean airway obstructions during the night caused by the development and growth of oral tissues and structures. Unless treated, this could increase the risk of sleep apnea in teen and adult years. Sleep apnea is linked to strained immune systems, daytime fatigue, and poor performances at work and school, as well as irritability. In the long term, sleep apnea is also connected to poor heart health, including high blood pressure, heart disease, stroke, and heart attack in their adult years. As your child's performance at school suffers, they could have issues with confidence and self-esteem. If you begin to notice one or more of the warning signs we discussed above, the please bring your child in to see our team right away.
Pediatric Evaluations and Exams
The evaluation will be a short exam, in which we gather x-rays and digital images of their smiles, allowing us to create a diagnosis with accuracy and precision. We will speak with you and your child about their daily routine and possible warning signs to gain a better understanding. During this, we have chairside screens for your little ones to watch movies. Our waiting area also has video games. Our team understands how to make children feel calm, relaxed, and heard, and we want to make sure they enjoy their time in our office. Since many of these issues are linked to tooth decay as mouth breathing tends to dry the mouth, we can discuss preventive treatment options. We can apply a fluoride varnish to strengthen the outer enamel, or a dental sealant to coat the hard-to-reach back teeth and prevent food from becoming trapped between them, where bacteria could break them down and cause cavities to form. If we find the early stages of tooth decay, we can also apply silver diamine fluoride, which halts the decay and prevents the need for a dental filling. Should a cavity form, then of course we have lifelike and child-friendly metal-free fillings made from composite resin, which blend with the smile and protect it from infection. We also have the ability to create lifelike crowns and other durable dental restorations.
Our Treatment Options for Airway Obstructions
To stop these issues, we need to guide the growth and development of the oral structures and teeth. Often, we will take detailed impressions and images of the smile and use them to create a custom oral appliance. Worn at night, the device helps ensure open airways and also corrects the position and growth of oral structures. Over time, this prevents further issues with sleeping and stops airway passage blockage. Your children breathe easier at night, enjoy better sleep and with it, an improved quality of life. We can also discuss treatments to correct developing misalignment, further improving bite balance and alignment. There is no one-size-fits-all approach to treatment, so your little one will obtain a personalized treatment plan designed for their smile alone. We will continue to monitor their smiles with routine checkup and cleaning visits every six months. If we work together, we can help your child enjoy improved oral health and yes, a good night's rest. If you have any questions or concerns about our pediatric evaluations or treatment options, or if you would like to schedule an appointment for your little one, then contact our team today. We offer children's dentistry to help kids of all ages obtain and maintain optimal oral health, addressing everything from sleep issues to tooth decay and more. Remember, we can start treatment for children as young as age one, and up to the teen years.
Do You Have Questions About Children's Dentistry?
Routine care for children is about more than just avoiding cavities and gingivitis. With regular exams, we can identify issues with airway obstructions and poor breathing, as well as treatment options to restore quality of life. We also clean the teeth to help ensure a bright smile and one free of gingivitis and cavities. For more information on caring for your little one's smile and overall oral health, then schedule a consultation by calling the Viva Dental Family Dentistry office nearest you at (214) 337-7800 (Dallas) or (972) 437-6000 (Richardson). We're proud to serve residents of Dallas, Richardson, and surrounding communities!