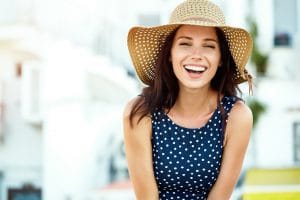 Now that summer is here and we're open for non-essential treatments, including our cosmetic procedures, your Dallas and Richardson, TX, dentist is ready to help tackle your discoloration. Discoloration may cause embarrassment and impact your social engagements. Fortunately, we have two very unique professional treatments to remove discoloration and brighten teeth. We even have options to address permanent teeth stains! In today's blog, we're going to look at how our team provides brighter summer smiles for our patients and their families.
Ensuring Your Health and Comfort
We care about our patients and their families, which is why we want to ensure you can obtain the treatments you need without putting your health at risk. Our office has made significant changes to our protocols and implement a number of new technologies to help protect our patients and team members from the spread of COVID-19. When you first arrive, you will call us before you come inside. Our team will make sure the waiting room is clear of people, and properly cleaned and disinfected, before you enter. We'll recommend wearing a mask, take your temperature, and ask health screening questions. There will also be hydrogen peroxide pre-rinses and no-touch payment options.
The office will also be using Puradigm medical-grade Air Filters with a UV light to filter and scrub the air. There will be sneeze guards at the reception desk, and a Healthy Air Oral Evacuation unit to capture aerosols. Other technologies include the DryShield Mouth isolation systems and an HOCL disinfectant fogger to sanitize the office. Not to mention our entire team is wearing PPE, including high-filtration N95 masks!
Teeth Whitening in Our Office
Now that you know the steps we're taking to keep you safe, let's talk about our in-office teeth whitening option. The process starts with a protective covering placed over your lips and gums. Next, we apply a powerful bleaching gel to the surfaces of your teeth. A special light then activates the gel, which begins breaking up discoloration. We repair the process to brighten teeth by several shades, and take care to protect your smile from tooth sensitivity. The entire process only takes about one to two hours to complete, so this is often recommended if you need fast results for a big event or unexpected interview or date.
A Take-Home Option
We also have an option you can use from home! While there are toothpastes and strips available over-the-counter that you can use from home, they don't offer dramatic results, and the results they do provide tend to not last long. Not to mention the high likelihood of tooth sensitivity when using store-bought strips or whitening toothpastes, which could be abrasive to your enamel.
Our at-home treatment begins with an initial office visit. Using digital technology, we take a series of images of your smile, which will be used to design and create a set of plastic trays. You then return home with these trays, along with a powerful bleaching gel. At home, you will fill the trays with gel and wear them for about 30 to 45 minutes each day. The trays not only fit comfortably, but they help spread the gel evenly across your teeth and prevents saliva from diluting the gel's potency.
After a week to ten days, depending on the extent of your discoloration, you will obtain a smile brightened by several shades! You then keep your trays, as well as any leftover gel, for touch-ups when stains begin to reappear months down the line.
Dental Bonding and Porcelain Veneers
The treatments above can address extrinsic discoloration, which form on the surfaces of the teeth, with ease. However, there is another type of discoloration known as intrinsic. These actually form beneath the outer enamel and can be hard to reach and remove with traditional whitening systems. However, that doesn't mean we can't still brighten your smile! We actually have two very different options to mask stains. With dental bonding, we use the same lifelike composite resin used in our tooth-colored fillings. Placements only takes one visit! With veneers, we place a shell of porcelain over the teeth to mask stains and address other cosmetic concerns. Placement takes between one and two visits. In some cases, we may combine these options for a cost-effective means of achieving a whiter smile.
Keep Your Teeth Bright
Following treatment, you will likely to want to keep your teeth as bright as possible! Fortunately, there are few easy ways to help reduce the severity of stains over time. First, try to cut back on drinks with tannins that discolor teeth, such as tea, coffee, and red wine. Try to reduce plaque buildup, which not only leads to cavities and gum disease, but also makes stains more apparent. To help reduce plaque buildup, avoid the sugary and starchy foods and beverages that feed harmful oral bacteria, causing plaque. Also, take time to remove food particles from the smile completely. You should brush your teeth when you wake up and again before bed, each session taking about two minutes. Floss every night before bed as well, as this removes what a toothbrush alone likely cannot. See our team every six months for a checkup and cleaning too, so we can monitor your smile for developing oral health issues, and then clean the teeth with an ultrasonic scaling device to remove plaque and tartar. These steps not only keep your smile bright, but lower the risks of serious oral health issues too! If you have any questions, then contact our team today.
Ready for a Cosmetic Consultation?
We want you to feel proud of your smile and confident when you pose for a picture with friends and family! We're helping people in our community enjoy brighter smiles with professional whitening options, from trays and gel to in-office solutions. For more information on our approach to cosmetic dentistry, then schedule a consultation by calling the Viva Dental Family Dentistry office nearest you at (214) 337-7800 (Dallas) or (972) 437-6000 (Richardson). We're happy to finally be open and able to help you and your family enjoy optimal oral health!