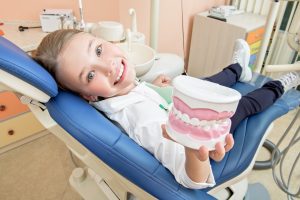 Did you know that every year, we offer free care for kids in need as part of the ADA Foundation's Give Kids A Smile Day? At our office, your Richardson and Dallas, TX, dentist and our team will offer a variety of preventive treatments to help manage the oral health of babies, toddlers, older children, and teens, helping them avoid the onset of major oral health issues. In today's blog, we're going to take time to discuss these treatment options, and urge parents to register their little ones now, as space is limited!
Give Kids A Smile Day
Created by the American Dental Association (ADA) Foundation, Give Kids A Smile Day is a chance for dental practices across the country to provide essential preventive treatments for children free of charge, helping those in our community without access to routine treatments and care. Our Richardson office on 722 West Spring Valley Road will be offering this care for children on March 5th from 9am until 6pm. Space is limited, so please contact us soon to register. Any child aged 12 and under qualify, and our team will be offering:
Free dental exams and x-rays
Dental cleanings
Fluoride treatments and dental sealants
We will also discuss how your child can better care for his or her own smile from home to limit the risk of future cavities or gingivitis, protecting the teeth and gums!
The Initial Exam
Kids maintain good oral health with the help of regular six-month checkups and cleanings. Right now, our team is practicing strict health and safety guidelines, and also implementing new office protocols and technologies to keep the air and surfaces clean, and to ensure proper social distancing. We take our COVID-19 precautions seriously, and want to keep our patients and team members safe.
During the initial exam, our team will take digital x-rays and images with intraoral cameras, so we obtain a clear picture of your child's current oral health. From there, we identify any possible areas of concern and create a personalized treatment plan to improve oral health and avoid major complications, including misalignment or the premature loss of a baby tooth.
Silver Diamine Fluoride and Fillings
If we uncover demineralization in a tooth, but a full-fledged cavity hasn't formed yet, then we can slow or halt the process with silver diamine fluoride (SDF). The material provides a protective layer to prevent further erosion in the enamel. However, if we do discover a cavity, then our team can treat the area with a filling. Using a metal-free composite resin, we remove the decay and clean the tooth thoroughly. Next, we fill the decayed portions of the tooth, and the material is tinted to blend with the rest of the tooth structure. After we cure the material and polish the tooth, your child is ready to go! In one visit, we treat the cavity and restore health and function to your smile.
Dental Sealants and Fluoride Varnish
To prevent cavities, we offer preventive treatments to strengthen the smile. For example, during your child's regular checkup visit, we will apply a special varnish to the teeth. The fluoride ingredients then strengthen the outer tooth enamel, lowering the risk of cavities. We could also help with dental sealants. This is a special acrylic coating that we add to the rear teeth, preventing food particles from becoming stuck between them. This lowers the risk of cavities and could remain in place for between five and ten years on average, wearing away gradually with time.
Airway Obstructions
We also evaluate children for airway obstructions. As they grow, complications with the development of the jaw, the eruption of the teeth, or the formation of oral structures could impact airways as you sleep. Issues breathing develop, and negatively impact your child's your ability to rest. Your child could experience mouth breathing, difficulty falling asleep and staying that way, troubles waking up or staying awake during classes, and an increased risk of moodiness and tantrums. Over time, these complications could impact your child's ability to meet emotional and educational milestones. Fortunately, we can use custom oral appliance therapy to help reposition the jaw and guide the growth of oral structures, providing relief and reducing the risk of misalignment and sleep apnea in later years.
Care at Home
Kids also need to take care of their smiles from home. As soon as teeth arrive, they need to be cleaned in the morning and at night, and as your child grows older, brushing for two minutes each time and using a rice-sized bit of fluoride toothpaste is essential. Children also need to floss as soon as there are teeth sitting side-by-side. These actions remove stray food particles and reduce the risk of tooth decay, bad breath, infection, and gingivitis. To help make the process fun, you can pick up toothbrushes and toothpastes with a fun cartoon or movie character on them, or even use a fun app, podcast, or song to time them and walk them through the process. Remember, cutting back on sugary foods and drinks could be beneficial too, as this deprives harmful oral bacteria of an easy meal and prevents plaque buildup and enamel erosions. If you have any questions about protecting little smiles from oral health issues, or about our Give Kids A Smile Day event, then please contact our team today. We have the skills and experience to help your children enjoy optimal care in a relaxed, inviting atmosphere!
Your Richardson, TX, Dentist Provides Pediatric Dentistry
We know that routine care both at home and in our office helps your little one enjoy strong, brighter smiles for years to come. For more information on our approach to children's dental care, then please schedule a consultation by calling the Viva Dental Family Dentistry office nearest you at (214) 337-7800 (Dallas) or (972) 437-6000 (Richardson). Our team wants to help your little one enjoy better oral health, whether at our Give Kids A Smile Day event, or through regular checkup and cleaning appointments at our office.