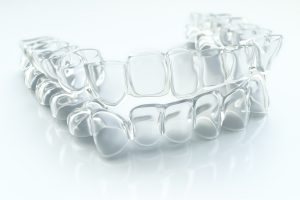 When you have crooked, crowded, or overlapping teeth, this could impact the health and beauty of your smile. The issue could start in childhood, but may also develop in adulthood too. We know that treatment is essential, but we also know that many teens and adults hesitate to undergo orthodontic care, with concerns about how braces alter their appearance during treatment. Fortunately, your Dallas, TX, dentist uses Invisalign® to offer a cosmetic approach to treatment with a series of clear and comfortable aligners!
The Health Risks of Your Uneven Teeth
First, let's take a moment to talk about dental misalignment. When you have uneven teeth, this impacts far more than just the beauty of your smile. In fact, poor alignment makes thoroughly brushing and flossing difficult, meaning food particles could remain trapped between teeth for bacteria to consume. The result is increasing plaque buildup, and with it, bad breath, stained teeth, and a higher risk of cavities and even gum disease. For others, poor alignment could mean strain on your jaw joints, causing painful disorders like TMJ disorder and bruxism (teeth grinding), which are linked to headaches, jaw pain, and even damaged teeth. The factors behind your uneven teeth could also impact the position of certain oral structures, which could impact facial structure, appearance, and even partially block airways to impact how well you rest. If you have uneven teeth, then please see us for an exam, so we can assess the factors behind your misalignment and the severity of it, and choose the right treatment option.
Creating Custom Aligners
For many teens and adults, we could prescribe the Invisalign® system. Instead of using metal brackets and wires to correct your smile, we will employ a series of clear aligners made from a BPA-free plastic material. To ensure a proper fit and treatment with precision and accuracy, we need to custom-make them. The process starts with the use of digital scanning technology to gather detailed images and measurements. We combine them to create a detailed 3D impression, which is then used in a dental lab setting to design and fabricate the aligners, so each one is meant specifically for your smile at each stage of smile correction. In addition, since much of the treatment process is handled from your own home, this means fewer visits to our office when compared to treatment with metal orthodontics, which saves you time and money. We will still want to see you every few months though, to make sure treatment is proceeding as expected, and to undergo routine checkups and cleanings.
The Invisalign® Treatment Process
Basically, your will wear a set of your new orthodontics for about 20 to 22 hours each day. After about two weeks, you will upgrade to the next in the series. Over time, the aligners begin to shift your teeth and correct your alignment, so you see optimal results in as little as a year for adults, and about 18 months for most teens. Regardless, this is much shorter than the time undergoing correction with metal braces  would require. The exact time of course will depend on the cause and extent of your alignment issues, as well as whether you wore them as the dentist prescribed. When in place, they won't cause the gum and cheek irritation associated with metal braces, and they will be nearly invisible too, so you don't feel as self-conscious about your treatment.
Removing Your Aligners
Metal braces cannot be removed, and you must avoid certain foods to avoid particles becoming trapped and increasing the risk of issues like tooth decay and gingivitis. In addition, thoroughly brushing and flossing your teeth is more difficult, as you must now work around brackets and wires to clean your teeth and remove food particles. But what if you could take them out? With Invisalign®, you actually take out your braces before meals so you don't have to avoid hard or sticky items. You also take them out before you brush and floss to avoid bad breath, teeth stains, cavities, and periodontal problems. When taking them out before meals, try to drink a little water to rinse your mouth before you put them back in, or maybe excuse yourself to floss quickly.
You can also remove them before special occasions, such as first dates, graduations, or even job interviews, provided you wear them for the amount of time the dentist has recommended for each day. Being removable makes your daily treatment experience much easier than you would expect with other common orthodontics solutions.
Masking Minor Alignment Issues with Porcelain Veneers
What if you have very minor cases of misalignment? In these situations, we may be able to improve the appearance of your smile with one or more porcelain veneers. A thin restoration that fits over the teeth, veneers are designed to blend with your smile and stay in place for decades to come. Since they cover the front and sides of the teeth, they instantly improve your smile and could mask minor misalignment, as well as discoloration, misshapen teeth, damage, gaps, and other common esthetic concerns. If you have any questions about how we address misalignment with either Invisalign® or one or more of our porcelain veneers, then contact our team today. We would love to schedule a consultation and then thoroughly examine your smile, helping create a personalized treatment plan to find the best options for correcting the appearance of your smile, and improving health and function too.
Your Dallas, TX, Dentist Offers Cosmetic Orthodontics
Our team knows how an even smile could impact your self-confidence, and we're excited to offer an option that doesn't alter your appearance during treatment. For more information on addressing minor and severe malocclusion and improving the alignment of your teeth, then please schedule a consultation by calling the Viva Dental Family Dentistry office nearest you at (214) 337-7800 (Dallas) or (972) 437-6000 (Richardson). We want to help you obtain a straighter smile and better oral health in a safe environment, which is why we're still following strict COVID-19 prevention protocols!