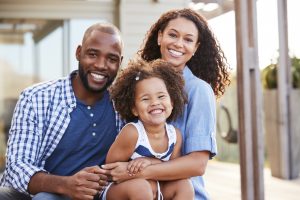 Our team works hard to stay on top of the latest technological advances and treatment options in dentistry. Doing so means that our dental office offers families in Dallas, Richardson, and surrounding communities access to quality care that is customized for their smiles. From babies and toddlers to adults and scenarios, we're ready to offer strong, brighter smiles that are full and happy with an array of advanced technologies, from digital x-rays to laser dentistry.
Keeping The Office Safe From COVID-19
First, we want to remind you and your family that each member of our team is still following strict measures to keep everyone safe and healthy! We're limiting the number of people our waiting room, performing temperature checkups, offering touchless payment options, and or course, wearing PPE (gloves, N95 high-filtration masks, face shields, and gowns). We've also added some new technologies to our office, including Puradigm UV Light HEPA Filters, Medify HEPA Air Filters, and the Healthy Air Extratoral HEPA Filter. These systems, along with our HOCL Disinfectant System, scrub the air and surfaces to destroy viruses, bacteria, and allergens throughout the day! We even have Dryshield Isolation to capture any aerosols during your exam and treatment!
Promoting Positive Family Environments
Technology isn't the only option for ensuring your family enjoys their time in the office and receives quality care. For example, each member of our team is experienced with building an easy rapport with kids of all ages, and ensuring they feel welcome and comfortable. We include movies and video games in our waiting rooms, and all patients can watch movies on our ceiling-mounted monitors. Parents are welcome to accompany their kids, and we also have a variety of sedation options for kids and adults to ensure even those with dental anxiety feel relaxed when undergoing treatment.
Ensuring Accurate Exams and Cleanings for Kids and Adults
A checkup every six months means our team can watch smiles both young and old for signs of developing oral health issues, and address the quickly before these issues grow more severe! To make a diagnosis with accuracy and precision, we use digital x-rays. Not only do they use 90% less radiation than traditional systems, but they images are available instantly chairside! No need to wait on a lengthy development in harsh chemicals, instead we can begin walking you through our diagnostic process right away. To identify possible areas of concern and plan treatment with precision, we may also use intraoral, cameras. A tiny digital camera at the end of a thin wand will be used to carefully capture a variety of images from different angles comfortably. We project the images from the feed on a large monitor, finding the earliest signs of issues like cavities, infection, gingivitis, gum disease, and more! Being digital means we've also gone paperless, so your records, insurance claims, referrals, and more can be transferred and obtained conveniently. Even our cleanings for smiles of all ages includes advanced technology, as our ultrasonic scaling device gently removes harmful plaque and tartar buildup with gentle vibrations.
Preventive Care for Children
Our technology and treatment options could also provide quality care for little smiles. Along with exams and cleanings to keep little smiles strong, we can also offer a "happy visit" lap-to-knee exam for babies once the first primary tooth erupts. To help toddlers, kids, and teens avoid the onset of tooth decay, we also offer unique preventive treatments. With fluoride varnish, we apply this remineralizing agent to the teeth as part of the six-month exam. The material then strengthens the outer enamel to keep the preventive layer strong. We also have dental sealants, which are thin acrylic coatings added to the hard-to-reach rear molars. This prevents food from becoming stuck between them, since kids have trouble properly brushing and flossing these teeth. The sealants stay in place for years to come, and wear away naturally with time. If we find the earlier stages of demineralization that could lead to tooth decay, we could halt the process with Silver Diamine Fluoride, which prevents the cavity form growing more severe and causing discomfort. A great preventive treatment to help avoid the need for a filling in those early stages of decay. Finally, we're also ready to help address airway obstruction, an issue that occurs when complications arise as the smile grows and changes. Over time, airway obstruction could mean poor rest, behavioral issues, and kids falling behind on emotional and educational milestones. If we identify these concerns in an exam, we can move forward with oral appliance therapy to guide the growth of the smile and keep airways open!
Addressing Common Oral Health Issues for Adults and Seniors
For adults and seniors, we have periodontal care to manage gum disease and prevent tooth loss, and lifelike restorations to address damage, decay, or dental infection. We're ready to stop TMJ disorder and teeth grinding, and also replace missing teeth with lifelike dental implants and other prosthetic options. We can also address minor issues, removing white spots from teeth and even brightening stained teeth. To ensure each and every treatment is comfortable, we use DentalVibe to provide anesthetic injection that isn't uncomfortable, a great option for those with fears of needles and injections. If you have any questions about how we approach care for families of all ages using advanced technology, or if you would like to schedule a visit for you or a member of your family, then contact our team today to learn more!
Your Dallas, TX, Dentist Offers Family Dentistry
We want to make sure your whole family enjoys optimal oral health and receives quality care with the latest technology. For more information on thorough and personalized care we offer for patients of all ages and their families, or about the technologies we use to keep smiles healthy and strong, then please schedule a consultation by calling the Viva Dental Family Dentistry office nearest you at (214) 337-7800 (Dallas) or (972) 437-6000 (Richardson). If you have specific concerns about COVID-19, feel free to call us and talk to our team.