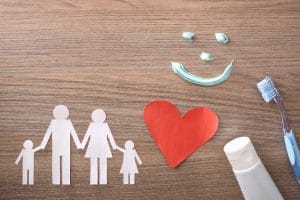 Better overall health starts with the smile, the gateway to your body. Unfortunately, due to the impact of the pandemic, many families have avoided seeing the dentist out of safety concerns. While we absolutely understand their concerns, we also know that this lack of care means painful toothaches and sore gums that could soon indicate cavities, infections, or even gum disease! To put our patients at ease, your Dallas and Richardson, TX, dentist would like to talk about the new protocols and technologies we're using to keep everyone safe, and why you should consider scheduling a checkup and cleaning visit soon.
You (and Your Family) Need a Checkup and Cleaning
The American Dental Association recommends a dental checkup and cleaning for kids and adults alike every six months, which allows our team to monitor smiles and identify possible areas of concern early, so we treat them before you or members of your family experience discomfort or develop serious oral health complications. At the moment, we know some of our patients have become furloughed, so scheduling a visit now could allow us to address potentially serious issues before benefits from their insurance plans are lost. We also want to remind people that what starts as a minor toothache or soreness when you brush and floss, could soon lead to a full-blown cavity or dental infection, as well as gum disease and an increased risk of worsening discomfort or even tooth loss. We urge people to attend visits and let us treat problems before they become worse and threaten the health and stability of your smile. As you will see, we are taking the risks of COVID-19 very seriously, and implementing new protocols and technologies to keep our office and waiting rooms safe for our patients and our team members.
New Protocols
We've made a few changes when we welcome our patients to the office. First, to limit people in the waiting area, we ask that patients call when they arrive, and come in when we say, this way we ensure better social distancing. You should wear a mask when you enter, and we will take your temperature. We also have plenty of hand sanitizer available in the waiting room for your use! If you've experienced a high fever or symptoms, such as shortness of breath or coughing, we suggest calling to reschedule an appointment. Prior to treatment, we will administer a hydrogen peroxide pre-rinse, and we also have no-touch payment options! Of course, our entire team will be wearing PPE, including masks, gowns, gloves, and face shields. We will also regularly clean and disinfect surfaces throughout the office, and even filter the air. These steps help protect the safety of not only our patients, but our team members as well.
Advanced Technologies for a Safer Office
First, we're using Puradigm medical-grade air filters that employ UV lights to not only filter, but also scrub the air. At our front desk, we have sneeze guards in place to protect all parties when you arrive and when you pay or fill out forms. To capture any aerosols in the air, we have the Healthy Air Oral Evacuation system. These units capture aerosols to prevent transmission of illness. We also have DryShield Mouth Isolation systems, and each member of our team will be wearing high-filtration N95 masks. Our office also has the HOCL disinfectant solution, used in a fogger, to sanitize the entire office. This technology uses Hypochlorous Acid to kill any fungi, bacteria, and viruses in the air or on surfaces, without posing any risk to our patients or team. This system is also employed in the food and healthcare industry to clean and sanitize, and is also used in water treatment and sanitation industries for these same benefits. We want you and your family to continue to maintain optimal oral health, and avoid issues that threaten the beauty and stability of your smile.
Now, to help limit how often you need to see us, and keep your smiles strong and healthy from home, you and your family need to practice good oral hygiene. Babies, toddlers, and everyone else benefits from having teeth cleaned daily. You should brush in the morning and again at night for two minutes using a fluoride toothpaste, and need to floss every night. You may need to assist or monitor your younger children to ensure proper brushing and flossing each day. Cutting back on sugary foods and drinks helps by denying harmful bacteria fuel, and reducing plaque buildup in the process. Of course, also make time to see us at least twice a year, so we can keep an eye on your smile and address any problems in the earliest possible stages for kids and adults alike!
If you would like to learn more about these new health and safety protocols, or about the technologies we've begun implementing in our office, then please contact our team today. We want to make sure you feel comfortable and at-ease when you see us, and we're here to address any of your questions or concerns. To help ensure proper social distancing, we're limiting how many patients we treat each day, so be sure to call us so we can find a time to is convenient for you and ensures you and your family have the waiting room to yourselves.
Ready to Schedule Your Next Visit With Your Dallas, TX, Dentist?
We want to make sure that you stay healthy and safe when you visit our team, and that you continue to maintain a healthy smile. Along with care in our office, we're also happy to talk about what you should do to protect your family's smiles from home. Treating your sensitive teeth and sore gums now means avoiding the risk of extraction or tooth loss later to infection to periodontitis. For more information on our approach to family dentistry, then schedule a consultation by calling the Viva Dental Family Dentistry office nearest you at (214) 337-7800 (Dallas) or (972) 437-6000 (Richardson). Our team wants to help you obtain a healthier and stronger smile!