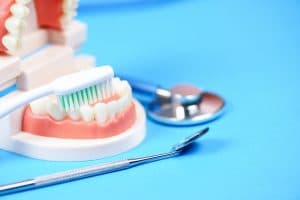 The summer has finally arrived, and your Richardson and Dallas, TX, dentist is happy to say our doors are open and we're ready to see you and your family for preventive and general dental care, as well as cosmetic treatments too! Since your kids are on summer break, and you're free of homeschooling duties, now is a great time to schedule a visit. In today's blog, we're going to talk about the importance of a routine exam and cleaning, and how we use advanced technology in the process. We're also going to look at the new technologies and protocols we've put in place to ensure you and your family safely enjoy your visit!
Our New Health and Safety Measures
First, we'll ask you a series of pre-screening questions before your visit and right when you arrive. We'll request you stay in your car until we call you inside, to ensure social distancing and to keep you from sharing the waiting room with others. Patients will wear masks when entering the office, and we will take your temperature and offer hand sanitizer. Our entire team will be wearing PPE, including masks, gloves, gowns, and face shields. We also have hydrogen peroxide pre-rinses and no touch payment!
To help keep the area sterile and clean, we'll be employing Puradigm medical-grade air filters with a UV light to clean the air, and we have an HOCL disinfectant fogger to help disinfect the entire office in between visits. Not to mention our sneeze guards at the reception desk, the DryShield mouth isolation system, and high-filtration N95 masks! We want you and your family to visit our office and feel comfortable that your health is being taken into account.
Your Dental Exam
The American Dental Association recommends a dental exam every six months for people of all ages. We agree! When you undergo an exam, we have a chance to carefully look at your teeth, gums, roots, jaw joints and tissues, and oral structures for signs of trouble. We then have the chance to create a personalized treatment plan to correct these concerns before they threaten the overall health and stability of your smile.
We use intraoral cameras and digital x-rays to obtain clear and detailed images of your smile. These images will be available instantly chairside, so we can walk you through the diagnostic process and identify possible areas of concern with far greater accuracy and precision. Common issues we look for include:
• Tooth decay
• Dental infections and abscesses
• Gingivitis and gum disease
• TMJ disorder and bruxism (teeth grinding)
• Oral cancer
If you do have high risk factors or gum disease, then you may consider an appointment every three to four months, so we can better monitor your smile and manage the disease to prevent complications, such as adult tooth loss.
Cleaning Your Teeth
During this same preventive visit, we will also thoroughly clean your teeth. The procedure involves using an ultrasonic scaling device and a manual tool to remove all plaque and tartar (calcified plaque) from the surfaces of the teeth. Forming as a result of bacteria breaking down stray food particles, plaque weakens and erodes tooth enamel and inflames gum tissues, increasing the risk of issues like tooth decay and gum disease, as well as bad breath and stained teeth. Brushing and flossing can limit the accumulation of plaque, but cannot remove it. The cleaning only takes a few minutes and helps safeguard your smile. If you have gingivitis or the early stages of gum disease, then a deep cleaning, also known as a scaling and root planing, could remove buildup from the teeth and roots, restoring the health of your gingival tissues.
Appointments for Kids
Remember, children need these visits too, starting a soon as the first baby tooth erupts! Not only do we identify and treat common oral health issues, but routine checkups help lower dental anxiety and allow your kids gain a better understanding of their oral health and what it takes to prevent issues like tooth decay and gingivitis. If you schedule a visit now, we have a chance to treat issues we may discover before school starts, and the next checkup will fall during winter break, so your little ones won't have to missing school. Along with checkups and cleanings, we have preventive treatments like fluoride treatments, dental sealants, and silver diamine fluoride to prevent or halt the onset of decay and prevent discomfort and infection!
Better Habits at Home (and on Vacation)
Now that summer has started, remember to drink plenty of water, which not only hydrates, but cleanses your smile too. Not only does water contain no acids or sugars, but tap water contains helpful fluoride that protects your outer enamel. Try to avoid sports drinks, energy drinks, sodas, and other sugar-rich items. In addition, be aware of what you snack on and opt for healthier choices! Make time to brush your teeth when you wake up and again before bed, and use a fluoride toothpaste when you do. Every night before bed you should also floss thoroughly to remove what a toothbrush cannot reach. With regular care both at home and in our office, you and your family can maintain better oral health. If you have any questions about treating common oral health issues, or if you would like to schedule a visit for you and your family, then please contact our team today. We're ready to see you and help you enjoy your best smile!
Ready to Schedule Your Next Checkup?
A routine visit for an exam and cleaning can help use identify and treat common issues in the early stages, and help your child gain a better understanding of the importance of routine dental care. For more information on our approach to preventive and general dental care, then schedule a consultation by calling the Viva Dental Family Dentistry office nearest you at (214) 337-7800 (Dallas) or (972) 437-6000 (Richardson). We're happy to finally be open and able to help you and your family enjoy optimal oral health!