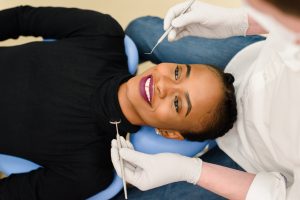 When was the last time you or your family visited the dentist? Due to the pandemic, many people haven't received a checkup or cleaning in over a year. For others, the time span could be even longer! Our team doesn't want dental anxiety and other factors to stand between you and the smile you deserve. Your Dallas and Richardson, TX, dentist offers a variety of solutions, from advanced technology to dental sedation, to help you feel comfortable and relaxed!
Understanding Your Dental Anxiety
Our goal is to ensure everyone feels comfortable and relaxed. However, we know that people may feel anxious about the dentist due to poor previous experiences, or simply due to a lack of experience. We won't downplay or roll our eyes at your concerns. Our team is ready to sit down with you and talk about your oral health, your smile goals, and your concerns, and to help find a way for you to receive the treatment you need in a welcoming atmosphere.
Creating a Positive Environment
We offer a few amenities to help kids and adults alike relax in a positive environment while undergoing treatment. For kids, we have team members experienced in talking with them and helping them feel excited about their visit. We have video games and movies in the waiting area, and kids are welcome to bring a stuffed animal with them. Parents are also welcome to accompany their kids, especially since this is a chance for us to discuss their child's oral health. Keeping teeth and gums strong in little smiles is a team effort, after all. For adults (and for kids too) we ceiling-mounted monitors so they can watch movies during their treatment, allowing them to focus on something fun  and engaging while we examine, clean, or repair smiles.
Digital X-Rays and More
We also help improve your comfort with a digital approach to your care. For example, when we take x-rays, we no longer need you to bite down on uncomfortable plastic bite wings. Instead, digital technology enables us to gather a series of detailed x-rays and images quickly and conveniently, and then display these images instantly chairside. We can walk you through the diagnostic process, and help you better understand what is happening with your oral health. The process is fast, streamlined, and uses a fraction of the radiation that traditional systems would require.
DentalVibe
We've found one thing that many patients of all ages feel apprehensive about is numbing. To properly administer an anesthetic and ensure you feel comfortable, we must inject into the tissues around the area receiving care. Fortunately, we can now ease the discomfort of this process with DentalVibe. The DentalVibe system employs gentle vibrations to significantly reduce the feeling of receiving an injection!
Treatment Without Drills, Scalpels, or Sutures
If you need to have infected or disease gum tissues removed to improve your oral heath, or if we need to trim away tissues to boost the beauty of your smile by contouring the gum line, then we may use the electrosurge device. Using specially-calibrated electrical currents, we carefully and comfortably trim away tissues with precision and accuracy. You won't need a scalpel, sutures, or a drill, and the area will heal quickly. You can often return to normal activities the next day!
Dental Sedation
Dental sedation helps patients of all ages enter a calm, relaxed state with little to no memory of the experience, all while remaining conscious. This a great way to help people with anxiety or special needs that make undergoing even minor procedures difficult.
With nitrous oxide, we administer a gas through a mask over the nose. The patient inhales the gas and enters a calm state. The effects wear off as soon as the procedure ends, so people can return to work or school and drive themselves home. This option is often used for kids and adults alike. For a deeper state, we may suggest oral sedation, which is administered before the procedure begins. You enter a deeper state of calm and may be a little groggy after the procedure, so a friend or family member will need to bring you home. We also combine nitrous oxide with anti-anxiety mediations. We're ready to recommend an option customized for your needs and your health.
COVID-19 Safety Protocols
We know that vaccinations rates are on the rise, and a return to normal as possible in only a few months. But in the meantime, we still want to make sure you and your family, as well as our team members, are safe from the risk of COVID-19. We're limiting the amount of people in the waiting room, and requiring masks and temperature cheeks for everyone. Our team will be wearing PPE, including masks, face shields, gloves, and gowns. We're also using advance technology to regularly clean the air and surfaces around the office throughout the day. We even have special rinses air filters so everyone is safe even during the treatment. If you have any questions about how we ensure the comfort of our patients, whether their young children or seniors, then please contact our team today. We're also ready to talk about our health and safety protocols, so you feel comfortable scheduling a visit for you or a member of your family. After all, we all need routine care, and we don't want you to put off your necessary treatments for another day!
Your Richardson, TX, Dentist Offers Cosmetic Orthodontics
As you can see, we have a variety of options and systems to help ensure that you, your children, and everyone else in your family enjoys their time in the office. For more information on the technology and protocols we use to ensure you feel welcome and comfortable, then please schedule a consultation by calling the Viva Dental Family Dentistry office nearest you at (214) 337-7800 (Dallas) or (972) 437-6000 (Richardson). Our team understands that even though vaccination rates are rising, we still need to take steps to ensure you remain safe from the spread of COVID-19!