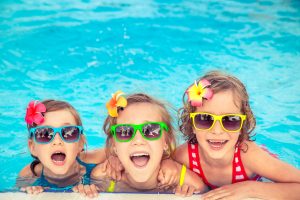 Now that summer is finally here, your kids are getting ready to enjoy a few months of rest and relaxation! However, this could also mean your little ones may end up becoming lapsed in their oral hygiene habits, and more likely to indulge their sweet tooth. Fortunately, your Richardson, TX, dentist is ready with a few tips to ensure you and your family enjoy healthy smiles throughout summer break, and beyond!
Stay Hydrated!
When we don't stay hydrated in these blistering summer months, this could lead to fatigue, headaches, body aches, and an increased risk of heart stroke! Staying hydrated means drinking plenty of water. This also has an added bonus for your smile. When you drink plenty of tap water, this exposes your teeth to fluoride, a special mineral that strengthens the outer enamel to prevent issues like tooth decay. Water also helps cleanse your smile, and contains no harmful sugars or acids, so it's completely safe for teeth of all ages. So, resist the urge to turn to sugar rich options, whjch as we will explain, mean serious trouble for your teeth, and instead opt for a nice glass of cold water!
Watch Out for Sugary Snacks
When we drink beverages high in sugar, this could leave particles behind for harmful oral bacteria to break down and consume. In the process, oral acidity increases and plaque and tartar buildup coat the smile. These factors are key in the onset of harmful cavities, dental infections, and painful toothaches. Obvious sugary beverages include sodas and energy drinks, but we also want you to watch out for fruit juice, which is also high in sugar. Sports drinks, while they can help you hydrate, also contain acids that weaken outer enamel and make cavities more likely. If you or your child drink these when playing sports, be sure to follow them with a glass of water to help cleanse the smile.
Beware Swimmer's Calculus
We would also liked to talk about swimmer's calculus. When a kid swims in water with high chlorination levels, this could cause worn enamel, discoloration, translucent edges of the teeth, and tooth sensitivity. To help avoid this, encourage your child to swim with his or her mouth closed, and look for signs that the water has a high pH level, such as erosion on pool linings, ladders, and railings. This isn't a very common issue, but it's one we worth keeping in mind!
Make Sure Brushing and Flossing is Still Happening
Don't let your child become lax in their oral health habits! Babies need to have their teeth gently cleaned by you in the mornings and in the evenings, often with a bit of cloth or gauze. Toddlers will need your assistance, brushing in the morning and again at night for about two minutes. As soon as teeth sit side by side, you should help floss with a pick. For older kids and teens, make sure they continue to brush for two minutes each time, and also floss every evening. Their toothbrush should be age appropriate, and we suggest a rice-sized bit of fluoride toothpaste. Your little ones can use electric or manual brushes, just as long as they take time to clean their smile regularly! These actions remove harmful food particles, reducing the severity of plaque and tartar buildup until we can see them for a professional dental cleanings.
Wear a Mouthguard When Playing Sports
When kids play sports, this could lead to a tooth that is chipped or broken, ore knocked loose or out completely! Even if an injury occurs that doesn't cause injury, a checkup to make sure a fracture hasn't occurred is recommended. To reduce the risk of serious injury, we recommend a custom athletic mouthguard. Our team will craft one custom-fitted to their smile for a greater level of protection, keeping smiles safe!
Don't Ignore Toothaches or Other Changes
If your little one complains about an aching tooth, or pain when they eat or drink, let us know! Redness or bleeding in the gums is a sign of trouble too. A checkup every six months let's us keep a close eye on the smile as it grows and changes over time. We know what signs to look for, including the signs that could indicate impacted permanent teeth, baby teeth not falling out on schedule, developing misalignment, and even tooth decay and gingivitis. We would love to see your child for an exam this summer, which also gives us a chance to clean the teeth and remove all harmful plaque and tartar buildup. A visit now means the next one should fall around winter break, so your children can avoid missing school for a dental exam.
Schedule a Visit to See Us!
We're open five days a week, from 9am until 6pm Monday, Tuesday, Thursdays, and Friday, and from noon until 8pm on Wednesdays. We have evening hours to make it easier for parents who work to bring their little ones in, and of course, we offer emergency care to see kids outside of these normal business hours. Whether you need to schedule a checkup, or if your child chips or breaks a tooth, please give us a call so we can schedule a convenient time to see your little and offer the care necessary to enjoy strong and healthy smiles.
If you have any questions or concerns about children's dentistry, or keeping kids smiles healthy throughout the summer, then contact our team today. We want to help your entire family enjoy amazing smiles!
Your Richardson, TX, Dentist Repairs Smiles of All Ages
We know that regular care is essential to maintaining the best possible smile, and we want you to have the knowledge to keep little smiles healthy! For more information on keeping little smiles strong and healthy during the summer months, then please schedule a consultation by calling the Viva Dental Family Dentistry office nearest you at (214) 337-7800 (Dallas) or (972) 437-6000 (Richardson). Routine care at home, combined with six-month visits to our office, could be essential for maintaining optimal oral health all summer long!