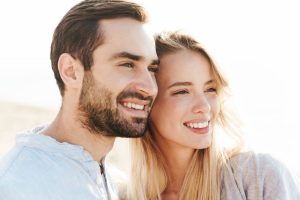 When you have issues with your smile that are cosmetic only, you should still talk to your Richardson, TX, dentist. Our team provides multiple treatment options designed purely to improve the beauty of your teeth and gums, correcting common issues and allowing our patients to once again smile with confidence. In today's blog, we're going to talk about these procedures, and explain how they help boost smile beauty, often in only one visit!
Your Cosmetic Consultation
Interested in making major changes to the beauty of your smile? Then get started by giving us a call. We first want to take a close look at your smile, using advanced digital imaging technology to understand the causes and severity of your esthetic issues. During this consultation, we will also talk to you about the aspects of your smile you want to change. Every patient has a unique smile, which means there is no one-size-fits-all approach. A personalized treatment plan will be crafted and implemented to help you obtain a brighter and more attractive smile! You may also be surprised to learn how many of our procedures can be completed in only one visit.
Teeth Whitening In-Office and At-Home
One of the more common cosmetic requests we get is to brighten teeth and remove unsightly teeth stains. We have two professional options available, which provides dramatic results that last longer than what's possible with traditional store-bought strips and toothpastes. Our in-office procedure provides a brighter smile in only one visit. After placing a protective layer over your gums and lips, we apply a powerful bleaching gel to the teeth, activating it with a light. The process is repeated as the discoloration is removed. Optimal results are possible in as little as one to two hours. For those who end results in a hurry, such as before a first date or a job interview, this is a great option.
We also have an at-home option, one that can address more severe discoloration and prevents tooth sensitivity. After an initial office visit, we will send you home with a custom-made set of plastic trays and a bleaching gel. Wearing gel-filled trays every day for about 30 to 45 minutes means the ingredients can break up discoloration. A smile brightened by up to eight shades is possible after about one week. The trays ensure even results and keeps the gel from becoming diluted. The remaining gel and the trays can be used for touch-ups in the coming months.
Bonding and Contouring
Bonding means applying a lifelike and metal-free composite resin to your teeth to correct esthetic issues, while contouring means we sand and buff away outer structure. Both take one visit to complete, and both can be done in the same sitting! Bonding means masking teeth stains, repairing chips and cracks, and closing gaps between teeth. Contouring removes pits and grooves in the outer surfaces, and addresses minor damage. We could combine these with other treatments to provide a smile makeover!
Gum Contouring
Sometimes, excessive gum tissue on display could make your teeth appear small or uneven, or just show too much gum when you smile. With a gum contouring procedure, we use advanced dental lasers to trim away excess tissues and improve the symmetry of the gum line. The results are a more attractive smile, all in only one visit. The use of lasers means no scalpels or sutures, no need for anesthesia, and a fast healing period! The risk of bleeding and infections is reduced significantly, and most patients return to normal activities after only a day of rest!
Porcelain Veneers
Porcelain veneers are very thin shells of porcelain that we place onto the teeth. They cover the front and sides, instantly changing the shape and color! We could use them to mask teeth stains, close embarrassing gaps between teeth, lengthen worn down teeth, and repair minor damage. Placement could essentially makeover your smile in only two visits! We could combine them with bonding and contouring for a more cost-effective approach as well.
Lifelike Restorations
What if you have a decayed or infected tooth? What if one is very damaged and beyond the scope of bonding and contouring? In these situations, we may recommend a restoration. A filling treats a cavity in one visit using the same composite resin employed by the bonding procedure. A crown uses ceramic or zirconia to create a durable restoration that covers the entire visible portion of your tooth. With the CEREC system, our team can create and place a completed crown in only one visit, so you leave with a completely restored smile. Our fillings and crowns can be color-matched to blend with your smile seamlessly, offering a lifelike repair for those in need of a cosmetic makeover.
Invisalign® Aligners
What if you have misalignment? We have a cosmetic option for uneven teeth too! For very minor misalignment, we could use veneers to mask the appearance of your crooked, crowded, or overlapping teeth. But for more serious cases of misalignment, our team could create a series of clear aligners from a BPA-free plastic material. The aligners then fit comfortably and offer smile correction that is practically invisible. The total treatment time could take only a year to improve! If you have any questions about how we approach esthetic treatment, or about any of our specific treatment options, then contact our team today to learn more. We would love to help you and your family on the path toward beautiful smiles!
Your Richardson, TX, Dentist Talks About Cosmetic Dentistry
We want to make sure you smile with confidence, which is why we're ready to address a wide array of common esthetic issues. For more information on how we can transform the beauty of your teeth and gums, then please schedule a consultation by calling the Viva Dental Family Dentistry office nearest you at (214) 337-7800 (Dallas) or (972) 437-6000 (Richardson). Don't assume you have to live with your esthetic issues. Whether they're minor or severe, we can help!