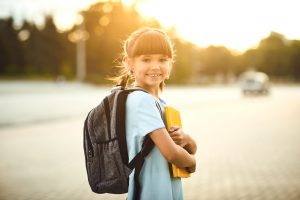 Starting next week, many children in the Dallas and Richardson, TX, communities will be heading back to school. As parents, you have to get them ready with new school clothes, supplies, and more. But amidst all of this, don't forget about their smiles! A checkup and cleaning visit before the school year begins means we can help your little one start a new year with their best possible smile. In today's blog, we're going to look at the steps you can take, starting with a checkup, to help facilitate this!
Scheduling a Checkup and Cleaning
When you give us a call, we will schedule a time to see you. To help protect our patients from exposure to COVID-19, we're limiting the amount of people in the waiting room, and our team will be wearing masks, gloves, and face shields. When you arrive, give us a call and we will let you know when to come inside. We'll check temperatures and our office will also be implementing technology to regularly clean and scrub the air and surfaces of impurities, including bacteria and viruses.
During the checkup, our team will talk to your children to help them feel calm and comfortable. We will gently examine the teeth and gums or signs of common childhood issues, such as cavities, gingivitis, or issues with the baby teeth falling out and permanent teeth erupting. We also make sure there aren't airway obstructions too. We also clean the teeth! A cleaning removes all plaque and tartar, something brushing and flossing alone cannot do. The process takes only a few minutes, and we complete it by polishing the teeth. Your little ones then leave with a brighter smile! They need these visits starting as young as age two. We also recommend a first visit for kids once the first baby teeth erupt, usually around age one. These visits help instill good dental habits, and have been shown to reduce dental anxiety in kids. They're also more likely to continue the dentist when they grow up!
Treating Cavities and More
What if we find issues that need treatment? With cavities, we could place a metal-free filling in one visit, one we shade to blend with their teeth. If we find cavities in the earliest stages of demineralization, then we could apply Silver Diamine Fluoride to halt the growth of the cavity and prevent the need for a filling. If there is airway obstruction, we could discuss the use of an oral appliance at night to keep airways free, which in turn helps kids rest easier and feel more alert and rested during the day. When we repair and restore smiles, we always take a custom approach, as every smile is different and will need unique care.
We also have preventive procedures to help protect their smiles. For example, during each six month visit our team can apply a special fluoride varnish to the teeth. Fluoride is a naturally-occurring mineral that has been shown to strengthen tooth enamel and prevent cavities. We could also place dental sealants. The rear teeth are often hard for kids to reach when they brush and floss, making this a hotbed for cavities. However, an acrylic coating that covers the teeth prevents food from becoming stuck between them. The sealants stay in place for up to ten years in some cases, and will wear away naturally with time. We could place these protective treatments before they even start the new school year!
Improving Oral Hygiene Habits
Children can also take steps from home to help safeguard their smiles. The school year is a great time to set a schedule and help protect little smiles. Your little ones should start the day by brushing for two minutes with a fluoride toothpaste. In the evening, they need to brush again for two minutes, and also floss in between each tooth. You can help your younger children, and keep an eye on your older ones to make sure everyone is cleaning their smiles as they should.
Reducing the risk of poor oral health in kids also involves how they eat and drink. Instead of sugary and starchy chips, cookies, and candies, offer fresh fruits, veggies, whole grain crackers, sugar-free gum, and cheeses. Instead of fruit juice, energy drinks, sports drinks, and soda that cause cavities, encourage more water! A healthy diet helps them feel more alert and stay active, and also protects their teeth from cavities and gingivitis.
Signs of Trouble
We want to see your child every six months for a checkup and cleaning. But if in between the visits signs of trouble arise, please let us know right away! This includes toothaches, tooth sensitivity, and sore gums. Pain in and around the smile could be a sign of tooth decay and other serious complications. If your child plays sports or martial arts, encourage them to wear a mouthguard, which helps prevent cracked and chipped teeth. Remember, damaged teeth or unexplained pain are examples of a dental emergency, and we can see your little ones for treatment outside of normal business hours should one arise. If you have any questions about how we approach children's dentistry, or if you would like to schedule a back-to-school visit for your kids, then please contact our team today to learn more. We would love to help your child enjoy their best smiles throughout the new school year, and beyond!
Your Dallas, TX, Dentist Talks About Children's Dentistry
We would like to help your kids better understand their smile, and start their new school year with better oral health. For more information on the steps we take to safeguard little smiles of all ages, from toddlers to teens, then please schedule a consultation by calling the Viva Dental Family Dentistry office nearest you at (214) 337-7800 (Dallas) or (972) 437-6000 (Richardson). Our team wants to help smiles of all ages stay healthy and strong, and we do so with a preventive approach to family dentistry, helping your little ones enjoy a bright and beautiful smile for years to come.