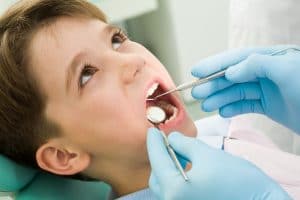 In the next week or two, children across the DFW area will be heading back to school. For some, they will be attending classes online only, while others will be physically present in the classroom. But before they begin navigating a new school year, we encourage parents to bring their little ones in for a routine checkup and cleaning visit. In today's blog, your Dallas, TX, dentist will explain the benefits of routine care for smiles of all ages, as well as our preventive visits and lifelike restorations for children!
Checkups
A checkup is a chance for our team to sit down and take a close look at your child's smile. Using advanced technology, including digital x-rays and intraoral cameras, we will examine the teeth, roots, gums, and oral structures for possible signs of trouble. We then create a personalized treatment plan to address these concerns and improve overall oral health. Scheduling one now means the follow-up could fall near the end of winter break, so your child could attend two visits without missing school and risking falling behind. These visits also offer other benefits. For example, children gain a dental education about how to keep their smiles healthy and strong, and routine visits also helps reduce the risk of dental anxiety. Kids may also be more likely to attend their routine checkups and cleanings as adults too!
Cleanings
During this visit we also clean your teeth. Over time, plaque accumulates on our teeth and unless removed, hardens into tartar that weakens and erodes tooth enamel and also irritates and inflames gum tissues. As a result, removing this buildup with ultrasonic scaling devices and manual tools helps lower the risk of issues like tooth decay, gingivitis, bad breath, and even helps keep your child's teeth bright! Afterward, we will polish the teeth thoroughly for a brighter appearance and smoother finish. At home, you can continue to make sure your kids brush and floss daily, which removes trapped food particles and reduces the severity of plaque and tartar buildup in between each visit.
Addressing Cavities
If we do discover a cavity, we have a few options. For early stages of decay we simply halt the growth of the cavity with Silver Diamine Fluoride, which is brushed over the decayed area. The decayed portions turn black, which is why we usually recommend this for side and rear teeth, and the tooth then doesn't need a filling. If the cavity is more substantial, then our team may place a lifelike dental filling, created from biocompatible composite resin that we tint to blend with the tooth. In one visit, we can use either one to prevent discomfort, like tooth sensitivity and toothaches, and safeguard little smiles from infections. After all, an infected tooth could mean premature tooth loss, which increases the risk of dental misalignment.
Preventive Treatments
What about treatments to help lower the risk of tooth decay? For kids of all ages, we can apply a fluoride varnish to the teeth during routine checkup visit, which strengthens the outer enamel and helps lower the chances of a cavity forming. Since many little ones also have trouble reaching the rear and side teeth when they brush and floss, we can coat them in a special acrylic coating. This dental cleaning then prevents food from becoming stuck between them, which would otherwise lead to a cavity forming. The sealants will wear away naturally with time, and stay in place for several years! Both options can be employed to keep teeth strong, and free of painful cavities.
Airway Obstruction Evaluation
We find that sometimes kids have issues with their air passages, as complications with oral structures and tissues cause blockage as they sleep. The result is poor sleep, moodiness and tantrums during the day, trouble focusing on tasks at school, and a higher risk of sleep apnea and dental misalignment in the teen and adult years. Fortunately, we can evaluate the smile for these concerns, and offer an oral appliance to help guide the growth of the jaw and smile, repositioning the oral tissues to ensure open airways, better breathing, and better sleep!
Protecting Health and Safety
We also take steps to help protect your health and safety. For example, when you arrive you will give us a call so we can make sure the waiting room is empty enough to ensure social distancing. We will require you and your child to wear a mask, and our team will be wearing masks, face shields, gloves, gowns, and other PPE. Our team will administer a hydrogen peroxide rinse to help prevent the spread of illness, and also use a variety of advanced technologies to help keep the air and surfaces clean, such as Puradigm medical-grade air filters that use UV lights to scrub the air, oral evacuation units to capture and remove aerosols, and even advanced HOCL foggers, which are also employed in the medical, education, and health industries to remove bacteria, viruses, and other harmful particles from the air. We have sneeze guards at our front desk, and no touch payment options! If you have any questions about our approach to children's dentistry, or if you would like to schedule a visit for your little one, then please contact our team today. We know how to help your kids stay calm and relaxed, and enjoy their visit with our team. Let us help your little ones start the new school year, whether they're going to be there in-person or online, with a bright and healthy smile.
Talk to Your Dallas, TX, Dentist About Children's Dentistry
We don't want your little ones to head back to class with cavities and poor oral health, we want to make sure they're ready for the new semester with a brighter and healthier smile. For more information on our approach to children's dentistry, then schedule a consultation by calling the Viva Dental Family Dentistry office nearest you at (214) 337-7800 (Dallas) or (972) 437-6000 (Richardson). We're ready to improve smiles for kids of all ages.