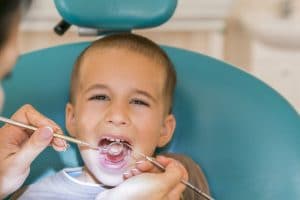 Now that we're open for all treatments, we can continue to help kids in our community enjoy healthier smiles with pediatric dentistry. Our team has implemented a number of new technologies and preventive equipment to help protect children and their families when they visit. In today's blog, your Dallas and Richardson, TX, dentist will explain how pediatric dental care protects little smiles, and why you should bring your little one in for a visit!
Checkups
The American Dental Association recommends a checkup about once every six months. When you arrive, we will permit one parent per child, and make sure the waiting room is empty. In between visits, we clean and disinfect commonly touched surfaces. We also have air purifiers and disinfectant foggers for added levels of protection! You will fill out a short form before you arrive and possible again once you're in the parking lot. We will request you and your child wear a mask and when you enter the office, we will take your temperature. We have special pre-rinses and our team will be wearing PPE, including masks, gloves, face shields, and gowns. Our team wants to ensure peace of mind for our patients and their families! The checkup allows our team to carefully examine the smile with advanced technology, identifying any areas of concern and providing a diagnosis with accuracy and precision. We then create a treatment plan to address any concerns we discover! A child's first visit should happen within six months of the first baby tooth's arrival, and your little one should see us every six months or so afterwards.
Keeping Little Smiles Clean
During the same visit, we will also clean your child's teeth, which means using an ultrasonic scaler and manual tool to remove all plaque and tartar from the teeth. Removing plaque buildup not only provides brighter teeth and fresher breath, but reduces the risk of tooth decay and gingivitis too. The process only takes a few minutes, but is vital for protecting a child's oral health!
Dental Sealants and Fluoride Treatments
During these visits, our team will offer preventive treatments to help reduce the risk of cavities and safeguard little smiles in between office visits. With fluoride treatments, we apply a special varnish to the teeth that actually strengthens the outer enamel, lowering the likelihood of enamel erosion and cavities. We apply them in each visit you rchild attends. We also have dental sealants! We coat the rear teeth, which are hard for kids to reach when brushing and flossing, with a special plastic coating. The sealant then prevents food from becoming stuck between them and as a result, decreases the chances of cavities and gingivitis developing. The sealants stay in place for several years at a time, and wear away naturally.
Stopping Cavities with Fillings and SDF
If we find a child has a cavity in the early stages, we may halt the rate of decay with silver diamine fluoride (SDF). With SDF, we prevent the need for a filling. We typically recommend this option for teeth in the side and rear of the mouth, as the it does darken the decayed portions of the teeth.
If a cavity has progressed to the point that treatment is crucial for avoiding infections or premature tooth loss, then we may suggest a filling. After removing the decay, we clean the teeth and apply a special composite resin material, which is metal-free and shaded to match the color of the tooth. We apply the material and shape the tooth as we cure the composite resin under a light. In one visit, we treat the smile. Remember, the time between a cavity forming and a baby tooth falling out could be months or even years, so don't ignore treatment, as this could otherwise mean worsening pain for your child and a prematurely lost tooth, which increases the risk of misalignment.
Addressing Issues with Airway Obstruction
Our team also performs a pediatric evaluation to assess the risk of breathing difficulties. For some children, issues with the formation of the oral structures and the position of the teeth could lead to trouble breathing at night. Children may then start mouth breathing, which dries out saliva and increases the risk of bad breath, cavities, and gum disease. As they approach the teen years, this could also lead to serious disorders like sleep apnea.
Airway obstructions also mean frequent interruptions for sleep, negatively impacting sleep cycles. Kids could have trouble staying focused during the day, act out and experience more tantrums, or fall behind in school. Over time, this could lead to negative impacts on facial structure and increased sleep issues, like waking up frequently experiencing nightmares and night terrors, sleep walking or talking, or movement during sleep.
If your child experiences theses issues, then our evaluation could identify the cause. We then create and prescribe an oral appliance, which is worn during the night. The custom-made device guides the growth of the jaw, oral and facial structures, and improves the alignment of the teeth. Over time, breathing improves, behavioral issues subside, and your little one could be less likely to develop sleep disorders in adulthood. If you have any questions about our approach to pediatric dentistry, or if you would like to schedule a visit for your little one, then contact our team today. We will help choose a time and date that works for your family, and make sure they start the new school year with a healthier smile. Remember, a summer visit means the next checkup should fall during winter break, which means care without missing school or sports events!
Schedule Your Child's Next Visit
If you have any questions about ensuring your kids enjoy optimal oral health, please let us know. We know how to help babies, toddlers, and even teens enjoy healthy and bright smiles. For more information on our approach to pediatric dentistry, then schedule a consultation by calling the Viva Dental Family Dentistry office nearest you at (214) 337-7800 (Dallas) or (972) 437-6000 (Richardson). We want to help kids of all ages enjoy a healthier and stronger smile.