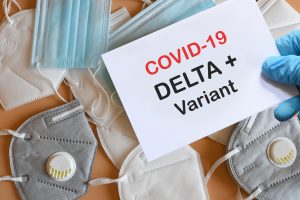 Recently, cases of the Delta variant of COVID-19 have risen dramatically, and many Texas hospitals are at capacity. Which has many families in our community worried about going to doctor and dental visits. We don't want to see your oral health decline, as it did for many people who avoided treatment during much of 2020. That's why in today's blog, your Dallas, TX, dentist will talk about the steps we're taking to protect patients and their families who see us for care! We don't want your concerns about the pandemic to prevent you from obtaining a healthy and whole smile. We're ready to see people of all ages!
The Importance of Dental Care
There is a very good reason that the American Dental Association recommends a checkup and cleaning every six months for kids and adults alike. Routine visits let us watch for signs of trouble, addressing them before they threaten the health and stability of your smile. Why wait for a root canal when we could stop a cavity with a filling? Why develop gum disease when we could reverse the issue in the earliest stages of gingivitis? Talk to our team about your next visit, and always let us know if a tooth hurts or if you damage part of your smile. Routine dental care helps safeguard smiles of all ages!
The Risks of the Delta Variant
SARS‑CoV‑2, the virus that causes COVID-19, has evolved a number of different variants since the pandemic started. However, of all the variants to arrive the Delta one has proven the most dangerous. This strain is twice as contagious as the others, and has been shown to cause more severe illness and hospitalization rates. This is especially dangerous for people who have not been vaccinated. People with the vaccinations are less likely to develop the illness by a wide margin, but they can still spread it to others. Which is why health and safety measures must be followed to keep our community safe and slow the spread!
New Technologies to Keep the Air Clean
Our team has taken steps since the earliest days of the pandemic to help keep the air and surfaces around our office and treatment areas clean and safe for people. We start with a special rinse to help kill viruses and bacteria. When you sit down in the chair, we can employ the Dryshield Isolation system to capture aerosols in the air as the dentist treats you, which helps prevent infection. Around the office, we will also use the Healthy Air Extratoral HEPA filter, which captures airborne particles and destroys them. Not only does this help stop COVID-19, but it also helps patients suffering from asthma and breathing issues! Our team also uses the Puradigm UV Light HEPA Filter and the Medify HEPA Air Filter, which uses UV light to destroy 99.9% of bacteria, viruses, fungi, molds, and allergens in the air!
We're also proud to employ the HOCL Disinfectant Fogger. This machine uses Hypochlorous Acid to destroy viruses, bacteria, fungi, and other airborne particles, cleaning both the air and surfaces around the office. This technology is also used to disinfect hospitals, schools, restaurants, hotels and more to help prevent the spread of illness. The system regularly cleans the air and surfaces throughout the day, providing vigilant protection for our patients and team members! If you would like to learn more about the systems we use, feel free to give us a call today.
Continuing Our Updated Protocols
We've made a few changes to our protocols to help prevent the spread of the disease. For example, when you arrive you won't come inside the building right away. Instead, give us a call and once the waiting room is empty, we will invite you in. We have mobile check-ins to limit how long you're in the waiting room as well. When you do come inside, we will take your temperature and require you to wear a mask. Our team members will also be wearing masks too (N95 High-Filtration ones), as well as face shields, gloves, and gowns. There is plenty of hand sanitizer available as well! We take your health and safety seriously, and are available to answer any questions or concerns you may have about our protocols.
Staying Safe Outside of the Office
When not in the office, you can really protect yourself and your family by getting vaccinated. With the vaccine, even if you become sick you'll significantly reduce your risk of hospitalization, so you don't strain our struggling hospital system, and the risk of death is dramatically decreased. Many don't even develop symptoms if they do pick up COVID-19. To protect the people in our community who cannot be vaccinated or have underlying health problems, be sure you wear a mask when in indoor places with other people, and maintain a good social distance. If you start to develop a fever or aches, then get tested and quarantine if necessary. Working together, we can bring an end to the pandemic and help keep the most vulnerable in our community safe!
If you have any questions about our protocols, or if you would like to schedule a checkup and cleaning visit, then please contact our team today! Now is a great time to take the first steps to restore the health of your smile. From our preventive exams and cleanings to our lifelike restorations and prosthetics, we can return your smile to an optimal state once again.
Your Dallas, TX, Dentist Talks About COVID-19 Protocols
We know that you need routine care to maintain healthy and bright smiles, but we also know precautions are necessary to keep everyone in our practice safe! For more information on the steps we're taking to ensure your health and safety, then please schedule a consultation by calling the Viva Dental Family Dentistry office nearest you at (214) 337-7800 (Dallas) or (972) 437-6000 (Richardson). We still want to help you and your family enjoy good oral health, even during the pandemic!