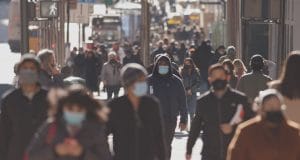 We're now in the ninth month of a global pandemic caused by the SARS-CoV-2 virus, which is responsible for the disease COVID-19. In the past few months, medical professionals have become aware of the many ways the disease leaves people who have recovered vulnerable to a wide range of serious issues, including heart attacks and stroke. However, there is also emerging evidence that your oral health itself could leave your vulnerable to superinfections should you develop and recover from disease. In today's blog, your Dallas, TX, dentist would like to cover this topic in detail, and also discuss the steps we're taking to not only keep your smiles safe, but to protect patients from COVID-19 when they visit our office.
The Link Between Poor Oral Health and Poor Overall Health
We already know that poor oral health could have a major impact on your body's overall health and function. For example, periodontal disease alone is linked to a greater risk of developing diabetes, Alzheimer's disease, and even heart attack and stroke. Disorders like sleep apnea, which could be caused by complications with your oral structures and tissues as you sleep, may also seriously strain your immune system and your cardiovascular system as well. Caring for your smile with preventive habits both at home and in our office with six-month visits is essential for not only keeping your smile strong, but the rest of you as well. Unfortunately, there is emerging evidence that people with COVID-19, even if they have recovered, could be at risk of developing serious infections and complications if they have preexisting oral health issues, such as periodontal disease.
The Risk of Superinfections
As the pandemic continues to spread and grow more severe, experts have quickly realized that people with underlying health issues could be at a greater risk of developing serious complications due to COVID-19. While that doesn't healthy people don't also develop these complications, studies have shown a large number of deaths from people with severe cases had also contracted superinfections that need antibiotic treatment. Multiple periodontal pathogens related to gum disease have been shown to increase the chances of inflammatory illnesses, particularly in the lung tissues. Which means the inflammatory complications in the lungs due to gum disease pathogens already leaves people, particularly the elderly, at a higher risk for contracting pneumonia. Unfortunately, since COVID-19 is also a respiratory infection, there combination of it and gum disease could be one-two punch that increases the risk of superinfections, including severe pneumonia. This could also elevate the chances of the patient succumbing to the disease, or a related infection that could develop due to the disease. To learn more about this these complications, please consult this article.
Managing Your Oral Health
Basically, when you care for your smile you not only increase your chances of avoiding harmful inflammatory illnesses and infections, but you give yourself another layer of protection against a more severe reaction to the impacts of this coronavirus strain. Let's talk about managing your smile's health from our office. We recommend that our patients see us at least once every six months. During these checkup appointments, we will examine your smile carefully with advanced digital technology, allowing us to create a diagnosis with accuracy and precision. Once we do, we will be able to craft a treatment plan to manage or prevent oral health issues like gum disease. For example, we could recommend better at-home hygiene habits, and provide a scaling and root planing to remove buildup from the teeth and the roots. The deep cleaning process helps reverse gingivitis to prevent periodontal disease. If you already have periodontal disease, there is no cure. But we can absolutely help you successfully manage it with routine cleanings every three to four months. Routine care helps control the severity of the disease, and lowers the risk of inflammatory complications. Our team also employs advanced laser technology and other unique treatment systems to help manage more severe cases as well, which not only safeguards your overall health, but lowers the risk of complications like tooth loss too.
Better Care at Home
In between our routine office visits, you also need to take steps to improve periodontal health too. At home, be sure you start each day by brushing your teeth for two minutes with a soft bristled toothbrush, and a toothpaste that contains fluoride. Do the same before bed too. You also need to floss every evening, as this removes food particles caught between the teeth and in the gum line that may be beyond the reach of a toothbrush. Other helpful tips include avoiding smoking cigarettes or using tobacco products, and enjoy a healthier diet that limits the severity of plaque and tartar buildup in between visits. Controlling plaque helps limit the chances of inflammation in the gingival tissues.
Protecting Your Smile
Now, what can you do to avoid COVID-19? First, remember that at our office we have changed our protocols and implemented new strategies and technologies to protect our team members and our patients. From wearing masks, gowns, gloves, and face shields, to embracing technology that cleans the air and surfaces multiple times a day, we're ready to see you and safeguard your safety. You should also wear a mask anytime you're out of the house and around others, and avoid indoor gatherings when possible. If you have any questions about protecting your and your family from coronavirus, as well as what you can do to safeguard oral health too, then contact our team today.
Schedule a Visit With Your Dallas, TX, Dentist
We want to make sure you and your family continue to stay healthy, and enjoy a smile that is free of serious concerns, such as periodontal disease. For more information on our methods of managing your oral health and protecting your smile both at home and in our office, then please schedule a consultation by calling the Viva Dental Family Dentistry office nearest you at (214) 337-7800 (Dallas) or (972) 437-6000 (Richardson). Your dental insurance benefits and health savings will expire unless used by the end of December, so be sure to schedule an appointment soon and put them to good use!