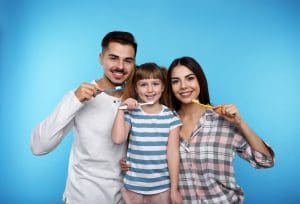 Now that school has started, many families in Dallas and Richardson, TX are experiencing disruptions to their schedule. For some, kids will be returning to school, while others are trying to figure out how they both work at home, and assist their little ones with homeschool. Disruptions to a routine could mean necessary habits, such as brushing, flossing, and routine dental checkups, could fall to the wayside. The impact could mean a higher risk of cavities, gingivitis, stained teeth, and other serious oral health issues! In today's blog, our team explains why families need to continue to find time to maintain a good oral hygiene routine.
A Routine at Home
We all need to take care of our teeth and gums at home, otherwise we risk developing painful toothaches due to cavities and infections, or sore, bleeding gums as a result of periodontal disease. In the more advanced stages, these issues could also mean tooth loss. Kids and adults alike should all start the day by brushing their teeth for about two minutes, using a toothbrush with soft bristles. We also urge the use a fluoride toothpaste, as this helps strengthen the outer enamel. Be wary of whitening toothpastes, as these could inadvertently damage enamel, since they have abrasive agents designed to remove stains.
We need to brush once more before bed, and in addition, should floss thoroughly. When we floss, we need to move the tape up and down each side of every tooth, dipping below the gum line in a "c" motion to remove trapped particles. Kids should begin flossing as soon as teeth sit side-by-side. Our team is happy to discuss proper brushing and flossing habits with you and your family during your next dental appointment.
Regular Six-Month Visits for Care
Speaking of appointments, you should schedule one for yourself, and for children as young as age three, at least once every six months. With a routine exam, our team employs advanced digital technology to obtain detailed images of your teeth, gums, roots, and oral structures. We then diagnose any developing concerns, treating them before they put the stability of your smile at risk. For kids, we typically watch for decay and gingivitis, as well as warning signs of misalignment, or issues with teeth falling out on schedule. For adults, we watch for cavities, gingivitis, periodontal disease, TMJ disorder, bruxism, and even screen for oral cancer once a year. We also have a chance to discuss good dental habits, and help children gain a greater understanding of the importance of oral hygiene, and what they need to do to maintain their best smile.
During the same visit, we also take a moment to clean your teeth. The process only takes a few minutes, and employs an ultrasonic scaling device and a manual tool to break up plaque and tartar from the surfaces of the teeth. The cleaning helps lower the risk of tooth decay and gum disease, and also helps address bad breath and prevent major discoloration too. Remember, brushing and flossing helps decrease the severity of plaque, but only a professional cleaning can successfully remove the buildup.
Preventive Treatment Options
We also have treatments designed to help protect teeth from the onset of tooth decay. While we mainly offer these options for children, they may be beneficial for adult patients in some situations. With fluoride varnish, we apply a special mineral to the teeth during routine checkup visits. Fluoride helps prevent demineralization, or the weakening of the outer enamel. For that reason, the application of the varnish helps fight cavities. We also have dental sealants. A dental sealant is an acrylic coating we add to the rear teeth. For kids, these are teeth hard to reach when brushing and flossing, so food particles could remain stuck between them, leading to cavities and gingivitis. However, the sealants prevent this from happening, and stay in place for up to ten years in some cases. They wear away naturally with time. If we find the early stages of decay in the side and rear teeth, we may also apply silver diamine fluoride, which halts decay and prevents it from becoming worse and requiring a restoration to treat.
Warning Signs of Possible Issues
While seeing us every six months as part of your oral healthcare routine is crucial, you should also be aware of symptoms that may require attention in between these visits. You should always let us know if you have persistent tooth sensitivity or toothaches, as this could point to a cavity. Don't ignore cracked or chipped teeth either, as these require emergency dental treatment. If your gums begin to feel sore, look red, or bleed easily, this could indicate gingivitis or the early stages of periodontal disease, and should receive attention to prevent worsening disease. We're also available should you have any cosmetic issues that need attention, or if you want to discuss better homecare habits.
Steps to Ensure Your Health and Safety
If you feel nervous about seeing us for your six-month visits, we understand. After all, we all need to take precautions to protect ourselves and our family from COVID-19. Fortunately, our team has implemented new protocols, mask mandates, and each member of our team is wearing PPE. We've also added new technology to clean and scrub the air, and sanitize surfaces throughout the office, multiple times a day to keep you and your family safe! If you have any questions about keeping your smile healthy with a good routine, or if you would like to schedule a visit, then contact our team today.
Schedule a Visit With Your Richardson, TX, Dentist
Regular visits to the office, and better habits at home, are essential for protecting smiles of both children and adults from the onset of complications ranging from tooth decay to periodontal disease. However, many of these issues can be successfully prevented with the right oral hygiene habits. For more information on our general and preventive treatment options, then schedule a consultation by calling the Viva Dental Family Dentistry office nearest you at (214) 337-7800 (Dallas) or (972) 437-6000 (Richardson). We want to help patients of all ages, from kids to adults, maintain their best smile.