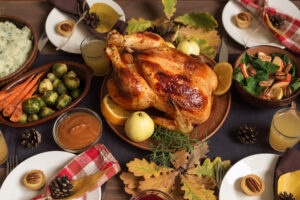 Next week, many of us will be traveling or having family come to our homes to celebrate the Thanksgiving holiday. While we all have favorite meals, many of our holiday favorites either contain high amounts of sugar or arch, or both! Which is why your Richardson, TX, dentist wants to make sure you and your family know what actions to take to keep your smile strong and healthy, lowering your risk of tooth decay and dental infection during the holidays!
The Risks of Sugar and Starch
When we consume foods and drinks high in sugar, or foods with a lot of starch, the particles from these will cling to the teeth or become caught between them. When this happens, harmful oral bacteria will seek out and consume these particles. As they break them down, this leads to an increase in oral acidity, and also coats the teeth in a sticky layer of plaque buildup. Plaque cannot be removed with brushing and flossing alone, and could harden over time in tartar. The buildup is linked to bad breath, teeth stains, and due to weakened enamel and inflamed gum tissues, a greater risk of tooth decay, gingivitis and even gum disease. Fortunately, there are a few simple steps you and your family can take to help safeguard your smiles and still enjoy your favorite dishes.
Choosing Healthy Options
Pies, cookies, cake, sweet tea, and other factors are high in sugar. Sweet potatoes, mashed potatoes, rolls, and biscuits contain a lot of starch. While you don't want to skip out on these favorites, you can add other options to help protect your smile. For example, if you eat fresh veggies like carrots or broccoli, this helps scrub away food particles and plaque during your meal. Drinking water also helps cleanse your mouth of food particles too. Balancing your plate with healthier options could be a great way to reduce the impact of items rich in sugar and starch.
Brushing and Flossing
You should also be sure that you brush and floss, even if you're out of town or staying at someone else's place. After your meal, consider excusing yourself to go to the bathroom and gently floss on each side of every tooth, moving the tape up and down the sides and dipping below the gum line. You should make sure that every day, regardless of holidays, you start each day by brushing for two minutes with a fluoride toothpaste. This removes trapped food particles and bacteria, and the fluoride helps strengthen the protective layer of tooth enamel. You should do the same before bed too, and always floss every evening. For your kids, you can time them using a sand timer or a fun song, and monitor them to make sure they cleanse their teeth properly too!
Schedule a Checkup Soon
Next week is Thanksgiving, which means Christmas and New Years are only weeks away. Don't let 2021 slip away from you without having your last checkup and cleaning of the year. Using advanced digital technology, our team will take clear and detailed images of your smile to diagnose any areas of concern in the earliest stages. We can then treat them before the hectic holiday season leaves your schedule too busy to see the dentist! For children, we can also discuss preventive options like fluoride varnish and dental sealants, which help lower the risk of tooth decay in little smiles. Fluoride is applied in a varnish form every six months, strengthening the outer enamel. Sealants are an acrylic coating placed on the rear teeth, which are often difficult for kids to reach. The sealants prevent food from becoming stuck between them, and the layer could last up to ten years. We also have Silver Diamine Fluoride (SDF) to halt the advance of decay in weakened enamel, preventing the onset of a cavity and the need for a filling.
Using Your Benefits
When you see us now, you also have a chance to use your 2021 dental insurance benefits before they expire at the end of the year. These are benefits you earned and paid for, so don't let them vanish without taking time to put them to good use! You can also use any health savings account funds you have before they expire at the end of December too. Our office staff can help you navigate your insurance to find out what coverage options and benefits you have available to use. We'll then plan your exams and treatment around these, so your smile improvements fit within your schedule and budget.
COVID-19 Safety Measures
Do you have concerns about the spread of COVID-19? We understand, and we don't want your valid concerns to stand between you and a healthy, strong smile. Which is why we've still practicing the same strict health and safety measures we introduced in early 2020. These include limiting the amount of people in the waiting room, taking temperatures, and having our team wear PPE, such as masks, face shields, gloves, and gowns. We also have forms that can be completed online, and we offer a special antibacterial rinse before treatment begins. We've also introduced a number of new technologies designed to clean and scrub surfaces and air itself several times a day, destroying viruses, bacteria, allergens, and more. We're proud to offer these options to protect the safety of you and your family, and ensure you feel comfortable and confident when you visit our office for treatment. If you have any questions about safeguarding your smile during the holiday season, or if you would like to schedule the last checkup and cleaning of 2021 or you and your family, then contact our team today to learn more. We look forward to seeing you soon!
Your Richardson, TX, Dentist Discusses Good Oral Hygiene
Our team wants to make sure you have the information necessary to keep your smile healthy and strong. For more information on protecting teeth and gums during your big family get-together, then please schedule a consultation by calling the Viva Dental Family Dentistry office nearest you at (214) 337-7800 (Dallas) or (972) 437-6000 (Richardson). We're ready to help you end 2021 with a bright and healthy smile!