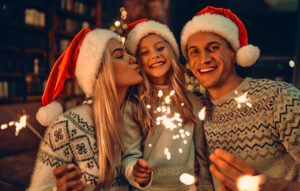 December is almost at an end, and New Year's will be here before you know it. Have you started thinking about your resolutions for 2022? In addition to picking up new hobbies or hitting the gym, why not think about your smile? Now is a great time to start improving your oral health, and we provide care for the entire family. In today's blog, your Richardson, TX, dentist is going to talk about how you and your family can enjoy your best possible smile! We would love to help you start 2022 with a dazzling smile.
Improving Your Homecare
We want you to make a resolution to take better care of your smile in 2022. Did you know serious issues like tooth decay and even gum disease could be prevented with good at-home care? This means you should start your day by brushing your teeth for at least two minutes, and then do the same before going to bed at night. Be sure you use a fluoride toothpaste, as this helps strengthen outer enamel. You can also use an electric or manual option; we just recommend soft bristles to prevent inadvertent enamel damage or gum recession. Flossing is also critical every evening, as you need to remove the food particles trapped between your teeth. You should use the floss to clean up and down each side of every tooth, dipping below the gum line in a "c" motion when you do. For babies and toddlers, you can gently clean their teeth and help them floss with a pick. For older kids, you can monitor them or let them clean their smiles alongside you, making sure everyone is taking good care of their smiles! We have Sonicare toothbrushes for kids and adults for sale in our office, along with tongue scrapers and professional at-home whitening kits.
Cut Back on Sugar and Starch
Many of our oral health problems stem from plaque buildup, which accumulates on the teeth and could lead to an increased risk of bad breath, discoloration, and even tooth decay and gum disease. Plaque is often brought on by foods high in sugar and starch, and sugary beverages too. This leaves behind particles for bacteria to break down, which creates the buildup. Try to enjoy these items in moderation in 2022, and be sure to bring a glass of water with them to help cleanse your mouth. A healthy diet is not only good for your heart and waistline, but for your teeth and gums as well!
Checkups and Cleanings
We know that the pandemic disrupted many of our routines, and as a result many of us didn't attend their checkup and cleaning visits every six months as recommended. But in 2022, you should make a point of seeing us regularly! A checkup means we sit you or a member of your family down, discuss your oral hygiene routine, and take a close look at your smile with digital x-rays and imaging technology. We make a thorough and accurate diagnosis, and can address any issues we discover, so you avoid major complications and discomfort. We also clean the teeth, a procedure that involves removing all plaque and tartar from the surfaces of your teeth. Doing so not only provides brighter smiles and fresher breath, but helps prevent periodontal issues and even tooth decay.
There is still time to see us for an appointment too! We would love to schedule a visit for you and your family now, so we can examine and clean your smiles, and if possible, address oral health problems. You then start 2022 with a stronger and healthier smile! If you have dental insurance benefits or health savings account funds still available, we can use these before they expire at midnight on December 31st. There is still time to see us before the holidays, so give our team a call today!
COVID-19 Safety
With news of the Omicron COVID-19 variant, many people are starting to feel nervous about seeing the dentist. We understand, but we don't want your smile's health to suffer as a result. If you receive the vaccine, this helps limit your risk of catching the disease or experiencing symptoms, and significantly prevents the risk of requiring a hospital visit. When you arrive for treatment, our team will have you stay in the parking lot until the waiting room is clear. You can fill out forms in the car on your phone through a link we send you. When you arrive, you will be required to wear a mask, and we will be wearing masks, gloves, face shields, and gowns. We'll take your temperature too.
When you go back to see us, we will provide a special rinse to destroy any harmful bacteria or viruses, and use special technology to protect you and our team members during the exam process. We also have unique technologies in the office that scrub and clean the air, removing harmful viruses, allergens, and bacteria from the air and surfaces multiple times a day. Your health and safety are paramount, and we're still practicing strict health and safety measures to keep everyone safe and healthy.
If you haven't seen the dentist lately, or want a visit before the year ends and your dental benefits expire, then contact our team today. We would love to see you and provide quality care for you, and every member of your family. From children to seniors, we're ready to offer healthy, bright smiles for people in Dallas and Richardson, TX, and surrounding communities.
Your Richardson, TX, Dentist Wants to Improve Your Smile in 2022
Our team wants to help you maintain good oral health throughout the year, both at home and in our office. For more information on the treatments we offer for the entire family, then please schedule a consultation by calling the Viva Dental Family Dentistry office nearest you at (214) 337-7800 (Dallas) or (972) 437-6000 (Richardson). A bright and beautiful smile is also a strong and healthy one, and one that you and your family deserve! Don't let poor oral health cause discomfort or make you hide your smile, talk to our team today about our comprehensive approach to dental care.