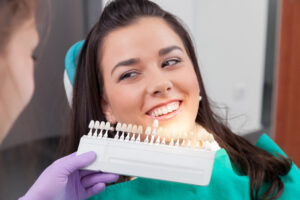 Often, we make resolutions to improve different aspects of our life. If you've also wanted to improve your smile by addressing common cosmetic imperfections, we can help make this resolution a reality! In today's blog, your Richardson, TX, dentist talks about our cosmetic treatment options, and how we can offer a smile makeover in as little as one to two visits.
Your Cosmetic Consultation
If you would like to make big changes to the beauty of your smile, then consider scheduling a visit with our team for a consultation! We will discuss your hopes for your smile, and then carefully examine your teeth, gums, and oral structures with advanced digital technology, which allows our team to assess the cause and severity of your esthetic concerns. With this information, we will be able to create a treatment plan to correct your imperfections. We can also discuss payment plans and more, as we don't want financial issues to stand between you and a beautiful, healthy smile.
Two Forms of Teeth Whitening
One of the most common complaints our patients bring to us is teeth stains. Discoloration can be embarrassing, but we can offer more dramatic results that last longer than store bought strips and toothpastes. With our in-office treatment, we will apply a bleaching gel to the teeth that is then activated with a special light, breaking up discoloration in only one to two hours. We could also create a set of plastic trays and send you home with the trays and a bleaching gel. The trays are filled with gel and worn for about a half hour to 45 minutes a day. The trays keep the gel in place for even results, with some obtaining teeth brightened by up to eight shades after one to two weeks. The leftover gel and trays are then yours to keep for touch ups down the road. We also have professional grade at-home strips you can purchase in our office!
Dental Bonding and Contouring
To correct issues with the shape of the teeth, or to fill gaps, we could recommend bonding and contouring. Both take only one visit to complete! Dental bonding involves applying a metal-free composite resin to the teeth in several layers. We shade the material to blend with your tooth, then shape it as the composite resin cures beneath a special light. In one visit, we can repair cracked or chipped teeth, add length to worn-down teeth, and close gaps between them too. We also make permanent teeth stains and reshape malformed teeth too. We end the procedure by polishing your teeth for a brighter appearance. With contouring, we gently sand and buff the outer structure to correct minor chips, or to remove pits, grooves, and rough patches in the outer surfaces too. We also reshape overly large teeth and dull sharp, jagged, or pointed teeth too. Again, all in only one visit! 
Gum Contouring
What if your cosmetic issues aren't related to your teeth at all, but your gums instead? A gummy smile means you display too much gingival tissue when you smile, which makes your teeth appear small or uneven in some cases. To treat the issue, we carefully mark the tissues that need removal, and use laser dentistry to gently trim and reshape the gum line. The procedure only takes one visit and rarely needs anesthesia or sutures. You will need to rest for a day and can return to normal activities afterward. The lasers are quiet, comfortable, and reduce the risk of swelling, bleeding, or infection! We could also use them to help treat more severe cases of gum disease as well.
Porcelain Veneers
With porcelain veneers, we essentially have a complete smile makeover in only two visits, and with only one treatment option! Each veneer is a very thin shell of porcelain. The restoration covers the front and sides of each tooth, altering the shape and color right away. Porcelain is a very strong and durable material, one that can absorb daily bite forces. The material can also be shaded to blend with the rest of your smile too! Each one can be used to close gaps between smiles, repair chips and cracks, lengthen worn down teeth, and even mask permanent teeth stains. We correct misshapen teeth too, and also correct the appearance of minor misalignment as well, which means you could enjoy straighter looking teeth without wearing braces or aligners. 
Invisalign
Finally, let's talk about a treatment option that addresses your misalignment with a less visible approach. Instead of braces, we will correct your crooked, crowded, and overlapping teeth with a series of clear and cozy plastic aligners. Each set is custom-made for your smile and created using digital images and measurements. A set is worn for about 20 to 2 horns a day for two weeks, and then your upgrade to the next set in the series. The process takes about one year, and could help both teens and adults correct their misalignment. You not only enjoy a more attractive smile, but a healthier one too as brushing and flossing is now much easier. During treatment, they can even be removed to make cleaning your teeth easy and to make eating less stressful too. You no longer need to avoid certain foods!
If you have any questions about our approach to cosmetic dentistry, or if you would like to schedule a consultation for you or a member of your family, then give us a call today. We would love to help you make a big difference in the beauty of your smile in 2022. Schedule your visit today! 
Your Richardson, TX, Dentist Offers Stunning Smiles
Our team wants to help people in our community find the perfect solution to their smile imperfections. For more information on cosmetic treatment options, then please schedule a consultation by calling the Viva Dental Family Dentistry office nearest you at (214) 337-7800 (Dallas) or (972) 437-6000 (Richardson). Now is a great time to obtain a brighter and more attractive smile.