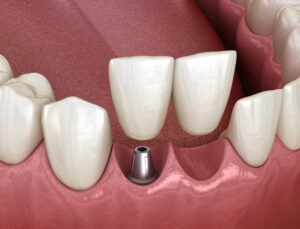 When you have a cavity, or when a tooth is damaged, this could leave your smile vulnerable to infection, worsening pain, and even tooth loss. Which is why your Dallas, TX, dentist is ready to repair and restore your smile. With our custom and lifelike dental restorations, we can craft crowns, fillings, and more to repair and replace teeth, improving the beauty, function, and health of your smile.
Dental Fillings
A dental filling is used to treat tooth decay in smiles of all ages. Since we don't use metal fillings and instead opt for composite resin, these are safe for people of all ages. The material is very strong and durable, but can be shaded to blend with the rest of the tooth as well. Placement is simple, as we numb your tooth and then remove decay. After we clean the tooth, we place the composite resin and sculpt the tooth as it cures. We then polish the tooth for a more lifelike appearance. Treating cavities stops discomfort and also prevents infections that could compromise the stability of your tooth. We also use the same material in a dental bonding procedure, treating damaged teeth, masking teeth stains, and addressing common esthetic issues in only one visit.
Dental Crowns
What if your smile needs more than a filling? If you have a more severe cavity or a cracked/chipped tooth, then our team could offer repair with a dental crown. This restoration covers the entire visible portion of your tooth. We create them using materials like ceramic, porcelain-fused-to-metal, and zirconia. Not only are they durable and able to absorb daily bite forces, but we can color-match them to blend with the rest of your smile. Placement involves removing structure from a tooth after numbing it, and then taking digital images and measurements. We use them to design and craft your custom restoration, which we secure with a powerful bonding agent. This could be used to repair and restore a tooth. We could even address tooth loss, using them to secure dental bridges and even restore an individual dental implant.
Root Canal Treatment
If you have an infected tooth, then we could use a root canal to gently remove the infected pulp, instantly halting discomfort and preventing the loss of your tooth. Following treatment, we cap the tooth with a crown made from the materials we mentioned above, protecting your smile.
Bridges
What if you have one or more missing teeth? Our restorative dental procedures also include custom and lifelike dental prosthetics. For minor cases of tooth loss, we could recommend a bridge. This contains new teeth, known as pontics, with crowns attached to each end. We custom-make them based on detailed images gathered of your smile, and create them from durable and lifelike materials, such as ceramic. The crown portion will be attached to the prepared teeth on either side of the gap, known as abutment teeth. This custom option could last 10 to 15 years, or even longer if we secure it with a dental implant!
Dentures
What if you have multiple gaps spread out across your smile, or have lost most or even all of your natural teeth? In these scenarios, you may need a set of dentures. A partial contains lifelike teeth set in an acrylic base, one that mimics the appearance of gum tissues. These address multiple gaps, and metal clasps attached to natural teeth will keep them in place. A full contains a full row of new teeth in an acrylic base, and is held in place with suction or a special adhesive. They last about 5 to 10 years, or longer if secured with dental implants. You now have a lifelike option custom-made for your smile and designed to help you smile with confidence and eat your favorite foods again!
Implant Restorations
We've mentioned dental implants a few times already. These are the most lifelike and durable option for replacing missing teeth. We insert a biocompatible titanium post into the jawbone, where it acts like a natural root. The body accepts it as one, and it bonds with the bone tissue through osseointegration. This allows it to last for decades to come, or even a lifetime in some cases. But what about the part people see when you smile? After we attach an abutment to the post, we will affix a custom-made crown, one designed to look natural and restore your ability to eat your favorite foods and smile with confidence. Again, the custom approach means results that look natural and help restore function and health to your smile.
COVID-19 Safety
If you have an aching tooth, or one that is damaged or missing, then consider a custom treatment to return your smile to optimal health, beauty, and infection. If you have concerns about COVID-19, we understand. Which is why our team is still following strict health and safety protocols to protect you. We have added new technologies that regularly clean and scrub the air and surfaces of allergens, bacteria, and viruses. We're still wearing PPE, including masks, shields, gloves, and gowns. We have a special rinse to destroy bacteria, and we're limiting how many people are in our waiting room. If you need to see the dentist, please contact our team today. We want to help you enjoy optimal oral health, and have a smile you never hesitate to show to the world. If you have any questions or concerns, please don't hesitate to reach out to us.
Your Dallas, TX, Dentist Offers Natural-Looking Repair
We take time and effort to create repairs and restorations that look completely natural and blend with your smile. For more information on lifelike and durable dental restorations, then please schedule a consultation by calling the Viva Dental Family Dentistry office nearest you at (214) 337-7800 (Dallas) or (972) 437-6000 (Richardson). You're never too late to repair and improve your smile, so give us a call to schedule a consultation and see what treatments you may need.