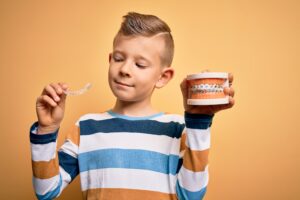 Did you know that February is National Children's Dental Health Month? This is the time of year when dentists across the country raise awareness about children's oral health. Which is why today's blog is dedicated to our pediatric dental treatments, and how we help babies, toddlers, kids, and teens enjoy strong, healthy, and bright smiles. Now is a great time to schedule a visit for your child with your Richardson, TX, family dentist!
Checkup and Cleanings
The best way to help your kids maintain good oral health is by taking time to see us for checkups and cleanings every six months. A child's first visit should happen after the first baby tooth erupts, around age one. Regular checkups and cleanings need to begin at around age two. With a checkup, we will use advanced digital x-rays and intraoral cameras to obtain clear and detailed pictures of their smiles chairside. We can view them instantly, and make a diagnosis with accuracy and precision. We watch for the earliest signs of tooth decay and infection, as well as gingivitis and issues with the eruption or loss of baby teeth and permanent teeth. We then intervene if necessary to protect the smile from major complications. These visits also help kids better understand their oral health, and make them more likely to continue attending dental visits in adulthood.
During the same visit, we will also clean the teeth. A cleaning does what brushing and flossing alone cannot, completely removes all plaque and tartar buildup. This helps fight bad breath and stained teeth, but also lowers the risk of tooth decay, infection, gingivitis, and more.
Silver Diamine Fluoride
What if we discover a cavity? For the very early stages, partially if they occur in the side and rear teeth, we may recommend Silver Diamine Fluoride (SDF). We apply this unique material to the teeth in question, and this halts the decay. The demineralization doesn't continue, and your child avoids the sonnet of a cavity in the tooth. This could even prevent or delay the need for an immediate filling.
Dental Fillings
If we do need to treat the cavity, we could do so in one visit with a dental filling. Instead of using metal, our team will employ a composite resin. This is metal-free and can be color-matched to blend with the smile, offering a lifelike option that is safe for kids of all ages. We administer a local anesthetic, and we also have sedation to help kids with dental anxiety or special needs undergo care with comfort and ease. We gently remove decay, clean the tooth, and apply the material. We sculpt the tooth as the composite resin cures under a light. We then polish the tooth for a more natural appearance. We can use the same material in a dental bonding procedure to repair minor damage. For more severe decay or an infection, we could treat the tooth with a custom-made dental crown.
Breathing and Sleep Issues
As part of your child's visit, we can also administer a pediatric evaluation to make sure your kids are breathing clearly and without obstruction. Sometimes factors in the growth and development of the jaw and teeth could impact how well your child breathes. This could cause mouth breathing, which dries out the teeth and increases the risk of cavities. Airway obstruction at night could also mean snoring and sleep apnea, leaving your child exhausted, hyperactive or fidgety, and moody. They could have difficulty concentrating at school, missing educational and emotional milestones, and could also be misdiagnosed with issues like ADHD. To improve breathing and avoid issues like behavioral problems, cavities, and gingivitis, our team could recommend a custom-made oral appliance. This device is worn at night like a mouthguard, and helps reposition the jaw to ease breathing and provide open airways. This helps improve their mood and behavior, allows them to feel more rested, and enables them to contrate on tasks at school and home. If you notice your child breathing through his or her mouth at night, snoring, or experiencing any of the daytime symptoms we discussed, then let us right away so we can perform a detailed and accurate evaluation.
Fluoride Gel and Dental Sealants
Our team also offers preventive treatments designed to help kids avoid cavities completely. For example, when your little one visits our team for a checkup, we will apply a fluoride gel to the teeth, which strengthens the outer enamel to prevent cavities. You should also make sure your child uses a small amount of fluoride toothpaste when brushing teeth. There is also fluoride in your tap water, which help prevents decay.
Children often have trouble reaching the rear teeth when brushing and flossing. Which means food particles can remain there, and increases the risk of cavities. Which is why we can apply dental sealants on the rear molars. This is an acrylic layer that prevents food particles from becoming stuck on or between the teeth that are too difficult for kids to reach. They stay in place for between five and ten years, and significantly lower the risk of cavities. They don't require removal, as they wear away gradually with time.
If you have any questions about our approach to children's dentistry, or if you would like to schedule a visit for your little one, then please contact our team today. We would love to help your child enjoy better oral health and a brighter smile, and that begins with a simple checkup and cleaning visit.
Your Richardson, TX, Dentist Offers Pediatric Dentistry
Our team is ready to provide preventive and restorative care for children, helping them enjoy good oral health. For more information on how we treat little smiles of all ages, then please schedule a consultation by calling the Viva Dental Family Dentistry office nearest you at (214) 337-7800 (Dallas) or (972) 437-6000 (Richardson). Children need routine care to enjoy good oral health now and, in their adulthood, too, so give us a call to start this journey today!