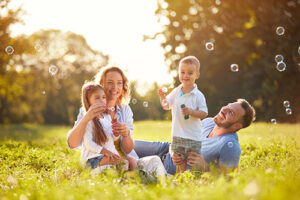 When you have stains on your teeth, this could mean poor oral health and even lead to issues with your self-confidence. We have an array of treatment options that could remove stains or mask them, and could offer more dramatic and longer-lasting options than traditional store-bought solutions. In today's blog, your Richardson and Dallas, TX, family dentist talks about our approach to brightening teeth with teeth whitening. We're also looking at the steps you can take to help your teeth stay bright and free of issues like tooth decay!
The Causes of Teeth Stains
There are a number of different issues that could cause the teeth to become discolored. For example, if you consume foods and drinks high in sugar and don't brush and floss properly this can allow plaque buildup to form. Plaque makes stains more visible, and also increases the risk of cavities. Tooth decay can also discolor teeth, as can injuries to the teeth or fluorosis. If you smoke cigarettes and use tobacco products, this also discolors teeth (and increases your cancer risk). Beverages with dark pigments, such as tea, red wine, coffee, and soda, could cause staining too. Understanding the causes of your discoloration could help you make better choices for your smile, and in addition to boosting the esthetics of your teeth, could also help limit the risk of cavities and infection in the process.
Teeth Whitening
Unlike store bought strips, professional teeth whitening offers dramatic results that last for months to come, and also helps limit tooth sensitivity as well. We have two main options for brightening your smile. We can do this in-office. When you arrive, we apply a unique bleaching gel to the surfaces of your teeth and then activate it with a special light. This breaks up and removes stains in as little as one to two hours total. People often choose this option if they need results fast. We also have an at-home option, one that can address more severe cases and brighten teeth by up to eight shades in some cases. You first come to the office so we can take impressions to create a set of plastic trays. You take these trays home with you, along with a bleaching gel. At home, you fill the trays with gel and wear them for about 30 to 45 minutes a day. The trays help ensure even results and prevent the gel from being diluted by saliva. Optimal results take about one week to ten days. You then keep your trash and any remaining gel for touch-ups in the coming months. We will take a close look at your smile and the factors behind your esthetic issues to decide which one is right for you. But what if you have permanent discoloration?
Dental Bonding
Also known as intrinsic staining, this forms beneath the enamel instead of the surface of your teeth, making it more difficult to remove with teeth whitening. But we can mask it with dental bonding! This is the same composite resin we use in our tooth-colored fillings. We apply it to the teeth in several layers and then shape the tooth as it cures under a light. In addition to masking discoloration, this can be used to repair minor chips and cracks, lengthen worn down teeth, close gaps between them, and address a host of other cosmetic issues at once.
Porcelain Veneers
We also have porcelain veneers to mask staining. These are very thin shells of porcelain that cover the font and sides of each tooth. They instantly alter the shape and color, and for this reason often offer a smile makeover in only two visits. The first visit involves removing the outer layer of enamel, and using a local anesthetic to keep you comfortable. We take detailed digital images of the tooth and use them in a lab setting to create the restorations. When you return to the office, we attach the porcelain veneers with a powerful bonding agent. They can stay in place for decades, and brighten teeth, repair damage, close gaps between them, and also reshape them. We can even correct the appearance of minor misalignment. For a cost-effective smile makeover, we could combine these with bonding. Dental bonding repairs the side and rear teeth, reserving the porcelain restorations for the front facing ones.
Preventive Actions
What can be done to help keep your smile bright? First, try to control plaque buildup by cutting back on foods and drinks high in sugar and starch. You should also brush your teeth twice a day with a fluoride toothpaste and floss every evening. These actions help remove tray particles and limit plaque buildup. Try to drink more water instead of beverages with dark pigments too. Avoid tobacco products when possible, and see us for a dental cleaning every six months. The cleaning allows our team to carefully remove all plaque and tartar buildup, and then polish the smile for a brighter appearance. These actions will also limit your risk of cavities, dental infections, gingivitis, and gum disease, so you enjoy a healthy and beautiful smile for years to come.
If you have any questions about our cosmetic treatments, then contact our team today. We can schedule a cosmetic consultation to see which ones are right for you, and plan a custom treatment strategy to brighten smiles and address other issues with health and function. Now is a great time to see us and make these changes of your smile. We're ready to help people of all ages in our community enjoy more attractive smiles, and good oral health as well.
Your Richardson, TX, Dentist Provides Cosmetic Dentistry
Our team wants to provide treatments to help remove or mask discoloration so you can smile with confidence again. For more information on keeping teeth bright and attractive, then please schedule a consultation by calling the Viva Dental Family Dentistry office nearest you at (214) 337-7800 (Dallas) or (972) 437-6000 (Richardson). We want you to have the information you need to enjoy beautiful smiles and avoid poor oral health.