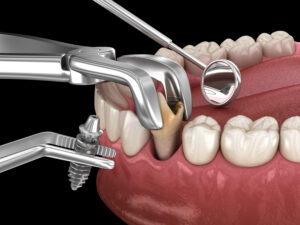 When you lose a tooth, or if you've suffered from extensive tooth loss, this could mean serious trouble for your smile and indeed, your overall health! Which is why we want to see you for treatment, even if years have elapsed since you lost your teeth. In today's blog, your Richardson, TX, dentist talks about how we can help replace missing teeth with durable lifelike, and comfortably-fitting dental prosthetics.
What Causes Lost Teeth?
A number of factors could lead to lost teeth for patients of all ages. For adults, untreated gum disease could reach an advanced stage known as periodontitis. This stage often causes the tissues that connect teeth and gums to deteriorate, leading to missing teeth. Untreated decay and infection could also mean gaps in the smile. For children, primary teeth fall out at specific times, allowing surrounding teeth to be present to guide the permanent ones into place. But losing baby teeth prematurely due to cavities or injury could impact however permanent teeth arrive, a major factor in the onset of misalignment.
The Impact on People of All Ages
For kids, prematurely lost teeth could lead to misalignment and other negative impacts. To help mediate this, we could discuss retainers and teeth spacers to help control misalignment until they're older and ready or braces or aligners. For adults, we will prescribe dental prosthetics to fill the gaps and restore function and appearance. Lost teeth could cause surrounding teeth to drift from position, a complication linked to misalignment and with it, an increased risk of tooth decay and gum disease. This is because the uneven aspect prevents effective brushing and flossing. Missing teeth also strain your bite balance and jaw joints, leading to complications like TMJ disorder or even bruxism (teeth grinding). You could also be more likely to develop complications with eating and even speaking clearly. Which us why replacement teeth are so crucial for teens and adults!
Examining Your Smile
To begin, our team will sit you down and make a detailed examination with digital x-rays and intraoral cameras. These images help us assess the cause and extent of your tooth loss, and the risk posed to other teeth. Often, underlying oral health issues like periodontitis will need to be managed before we move forward with tooth replacement. Our team will choose the best option for you and your budget, and start your journey to a full smile again.
Dental Bridges
A dental bridge is a great way to address between one and up to three missing teeth in a row. To begin, our team will numb the teeth on either side of the gap in your smile and remove structure from them. We then take detailed digital images, which we use in the design and fabrication process. The bridge will contain new teeth, known as pontics, with crowns attached to each end. We often crate them from ceramic, ensuring they can be color-matched to blend with your smile, and also ensuring they can absorb daily bite forces. The crown portions will be attached to the abutment teeth, securing your new teeth firmly in place. These last an average of 10 to 15 years before they require replacement.
Partial Dentures
If you have multiple gaps in your smile that are spread out from one another, you have tooth loss too severe for a bridge, but not quite advanced enough for a full set of dentures. A partial allows us to fill these gaps with a single prosthetic. The denture will contain new ceramic teeth set in an acrylic base, one we shade to blend with your smile. The base will be made from an acrylic material that we craft to mimic gum tissue. Metal clasps will attach to natural teeth and secure your replacement ones firmly in place. These tend to last 5 to 10 years on average.
Full Dentures
What if you're missing most, or possibly all, of your natural teeth? A complete set of dentures replaces every tooth on one or both arches. Again, each set is custom-made for your smile based on detailed digital impressions we create. For some, we may need to gently extract the last few teeth to make room for the new prosthetic. Time is taken to ensure natural looking results. As with partials, these tend to last about 5 to 10 years, requiring replacement as the jaw ridge changes shape.
Dental Implants
When we lose teeth, the body will suspend the flow of calcium and phosphates to the areas in the jawbone around the lost roots. Without these nutrients, the bone tissue loses mass and density. The result is weakened jawbone structure and an aged appearance. But with dental implants, we insert a special titanium post into the arch. Since this is biocompatible, the body accepts it as natural tooth structure and it bonds with the jaw. The flow of nutrients resumes, preserving your facial structure and also keeping your new teeth in place. We can use this to provide an individual tooth replacement, or to secure a fixed denture too. These can last for decades to come, or possibly even a lifetime.
If you have any questions about how we replace missing teeth, then give us a call today. If you have a gap in your smile, a consultation and exam can help us find the best option to restore your smile to optimal health and healthy, and allow you to eat and speak without complication again. Let's start you on the path to a full smile, so you can close out 2022 with a complete row of stunning teeth.
Your Richardson, TX, Dentist Can Replace Your Lost Teeth
We would like to make sure you can end 2022 with a whole smile, one that makes you feel confident again. For more information on our custom tooth replacements, then please schedule a consultation by calling the Viva Dental Family Dentistry office nearest you at (214) 337-7800 (Dallas) or (972) 437-6000 (Richardson). We would love to help you use your benefits before they expire, so you can have a new smile before 2023.