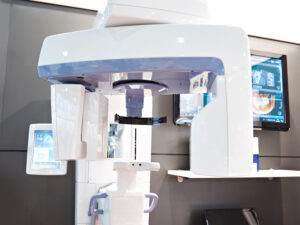 Our team strives to offer the best care possible for our patients and their families. In addition to comprehensive treatment options, we also employ advanced technology to provide care with improved precision and accuracy. In today's blog, your Dallas, TX, family dentist talks about the various technologies we use for each aspect of your treatment, and how these can offer care with comfort and precision.
Digital X-Rays
We often use advanced digital technology as part of the diagnostic process. These alternatives to traditional x-rays use a fraction of the radiation, often 90% less. The images don't need to be developed in harsh chemicals, and instead are available instantly chairs side, so we can walk you through the diagnostic process and answer any questions you have. Since we don't use harsh chemicals for development, this is better for the environment too. These are safe for people of all ages, and the process of taking them is quick and convenient. We can also send these images to specialists if needed or to other practices much easier than if we used traditional development methods.
Intraoral Cameras
With intraoral cameras, we obtain incredible detailed images of your entire mouth from multiple angles. Which allow us to make a more accurate diagnosis, catching issues in the earliest stages of development. These high-definition images are captured by a machine that encircles your head as you rest your chin on a special chin rest. The process is quick and comfortable, and the images are available instantly chair side so we can make a diagnosis quickly and also limit your time in the chair. We can answer any questions you have, and help you gain a better understanding of your smile. These images, along with our digital x-rays, could help us plan and complete more advanced treatments, such as a safe and gentle tooth extraction or even the placement of dental implants to help replace one or more missing teeth. We also plan the creation of custom-made restorations, such as our lifelike dental crowns, to address dental damage or complete a root canal procedure.
Icon 2
As your enamel weakens and demineralization occurs, white spots could appear on your teeth. These areas could eventually lead to tooth decay unless addressed, and the spots can't be erased with whitening. However, to protect the enamel and improve the aesthetics of your smile, we could use the Icon 2 system. This employs an injection of special resin material to the areas to fortify the enamel and prevent the onset of cavities. We can also use this to mask white spots that form once brackets from braces are removed. The process is drill-free, quick, and convenient. The results will leave you feeling more confident when you smile, as you don't have to worry about white spots on the surface of your teeth any longer.
DentalVibe
We want our patients to feel comfortable through the treatment process, so when they're receiving a restoration or having a root canal performed, we will administer a local anesthetic to the area being treated. However, this does involve an injection and usually causes minor discomfort. However, we can limit this discomfort even further with the DentalVibe system. This technology employs gentle vibrations to limit the discomfort as we administer anesthesia to the areas receiving treatment, boosting your comfort and helping you enjoy a more comfortable experience. If you have anxiety about the numbing process, this could be very helpful! If you have very high levels of dental anxiety, in addition to DentalVibe, we could discuss the use of dental sedation to help you enter a calm and relaxed state, often with little to no memory of the procedure at all.
Paperless
We've gone paperless! Which means all of the paperwork and records are digitized, from x-rays and intraoral camera images to paperwork, insurance claims, and more. We can easily send these to a specialist or another dentist, and answer inquiries much more efficiently. This is also good for the environment, think of the trees we're saving!
Cleaning the Air
During the pandemic, we wanted to make sure our team members and our patients were safe. Which is why we employ a number of technologies that are still in use today! With our air purifiers, we can scrub the air of allergens, bacteria, viruses, and other pathogens, helping everyone stay healthy and safe during their time in the office. Whether you have allergies or are high risk for diseases like COVID-19, this can help you stay safe and enjoy peace of mind when you undergo treatment at our office.
Use Your Benefits!
If you have any questions about our technologies, or if you would like to schedule a checkup and cleaning with our team, then please give us a call today. Remember, before you know it the end of the year will be here and if you don't use your dental insecure benefits or health savings funds, they will expire at midnight on December 31st. Don't lose what you've earned and paid for, schedule a visit now so we can use them and help you start 2023 with a strong and healthy smile, one that you can't wait to show off to the world! We offer care for each and every member of your family, from kids to seniors, so talk to our office today.
Your Dallas, TX, Dentist Can Offer Strong and Gorgeous Smiles
Our team wants to help treat your smile and offer better oral health with precision and accuracy, which is why when poivre we implement the latest in digital imaging technology and more. For more information on the advanced technology we use or to schedule your next checkup and cleaning visit with our office, then please schedule a consultation by calling the Viva Dental Family Dentistry office nearest you at (214) 337-7800 (Dallas) or (972) 437-6000 (Richardson). Be sure to schedule an appointment so you can use your dental benefits before they're gone. With regular visits for checkups and cleanings and good homecare habits, you and your family can maintain optimal oral health for years to come, and always smile with confidence.