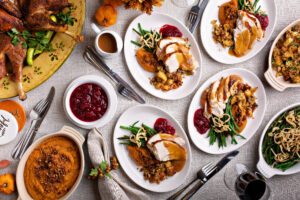 Do you and your family have big plans for your Thanksgiving holiday? The start of the holiday season is just a few days away, and many of us will be celebrating with friends and family. However, many of our favorite holiday dishes contain lots of sugar and starch, which could lead to an increased risk of tooth decay. In today's blog, your Richardson, TX, family dentist talks about how to protect your smile while still enjoying your favorite Thanksgiving dishes!
Sugar and Starch
The main things to watch for are your consumption of sugar and starch. These are two ingredients that easily cling to the teeth or become trapped in between them. Once there, harmful oral bacteria can break them down. This elevates oral acidity and coats the teeth in a layer of plaque buildup. Not only is this buildup a factor for teeth stains and bad breath, but plaque can weaken and erode the outer enamel, exposing sensitive inner structures and allowing tooth decay to form. Which is why we want to offer a few simple suggestions for protecting your smile, while still enjoying your holiday meals.
Choosing a Balanced Plate
First, try to balance your plate. Mashed potatoes, sweet potato casserole, biscuits and muffins, and stuffing are all examples of starch-rich foods. Cobblers, pies, cakes, and other popular desserts have a lot of sugar. Be sure to balance your plate with plenty of fresh fruits and vegetables. Not only are these healthier, but some fresh items like carrots, apples, and broccoli help scrub away food particles and plaque as you consume them. In addition to popular beverages like tea, why not have a glass of water, as this helps rinse away sugar and starch as you drink? A balanced meal and sugar items in moderation can help limit your risk of cavities in the coming weeks. When the winter holidays happen, many of these same foods make a retainer appearance, so again you can take steps to enjoy them without leaving your smile vulnerable to the onset of tooth decay, or possibly periodontal issues like gingivitis and gum disease.
Good Oral Health Habits
You should also practice good oral hygiene during your holiday meals too! After you get done eating, why not excuse yourself to floss, removing trapped food particles? Also, during the holiday make sure you also brush your teeth when you wake up and then again before bed, for at least two minutes per session. These actions help remove stray food particles, and using a fluoride toothpaste as you brush also helps strengthen the outer enamel. Before bed each evening you also need to floss thoroughly to reach the bits of food beyond the reach of a toothbrush alone. These actions help control plaque and tartar buildup until we can see you for a checkup and cleaning visit, which you should schedule soon too so you can close out 2022 with a healthy and brighter smile!
Your Last Checkup and Cleaning Visit
Speaking of which, there is still time to schedule your last checkup and cleaning of 2021. This visit enables our team to examine the teeth for signs and trouble, and then offer treatment before the stressful holiday season makes your schedule too hectic. We then clean the teeth, using an ultrasonic scaling device and a manual tool to break up and remove all plaque and tartar, before polishing your teeth thoroughly. This helps you enjoy a brighter smile, and a reduced risk of cavities and gum disease. Scheduling a visit now is also a chance to use your remaining 2022 dental insurance benefits before they expire at the end of December. Let's work together to help start a new year with a healthy and whole smile.
If you have any questions about our approach to cavity prevention and treatment, or if you want to use your benefits before they expire, then contact our team today. We offer treatment for the entire family, from kids to adults.
Your Richardson, TX, Dentist Provides Preventive Dentistry for Families
Our team is ready to help you and your family enjoy healthy smiles throughout the year. For more information on avoiding the onset of tooth decay during the holidays, then please schedule a consultation by calling the Viva Dental Family Dentistry office nearest you at (214) 337-7800 (Dallas) or (972) 437-6000 (Richardson). Be sure to see us soon for your last checkup and cleaning before the year comes to an end, you can use your benefits and greet 2023 with a bright and stunning smile!