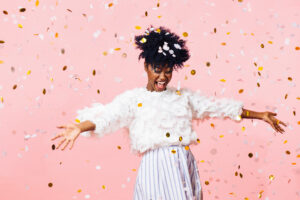 In just a few days, we'll all be ushering in the New Year, celebrating with friends and family. We'll also be coming up with some resolutions. In addition to plans to try new hobbies or work out more, don't forget about your smile! Now is an excellent time to make a few changes that can keep your teeth and gums healthy, and ensure your smile shines. In today's blog, your Dallas, TX, family dentist talks about how we can help you enjoy a new smile in a new year!
The Initial Dental Exam
Now is a great time to schedule your first dental exam of 2023. During this checkup visit, we will talk to you about your smile and also take detailed digital images of your smile from multiple angles, so we can conduct a diagnosis with precision and accuracy. If we find areas of concern, we will create a personalized treatment plan to restore the health, function, and beauty of your smile. With an early diagnosis, we can help tackle issues like decay before you even experience discomfort. Our team can also discuss ways to improve your oral health.
In the same visit, we can also clean the teeth. Employing an ultrasonic scaling device and a manual pick, we will gently and thoroughly remove all plaque and tartar from the surfaces of your smile. We then polish the teeth for a brighter appearance and a smoother surface. A cleaning helps fight bad breath, teeth stains, and even lowers the risk of cavities and gum disease. People of all ages, from children to adults, benefit from these visits twice a year!
Pediatric Dentistry
Our team offers care for kids as well! We can provide pediatric evaluations to make sure your kids can breathe at night without obstruction, and also watch for issues that impact little smiles, like complications with the eruption of the permanent teeth and the loss of primary teeth. We also have unique preventive treatments like dental sealants and fluoride gel to lower the risk of cavities in little smiles.
Addressing Cosmetic and Restorative Concerns
If you have issues with the beauty of your smile, why not make positive changes in 2023? We have professional treatments to remove teeth stains, or we could use bonding and contouring to transform the appearance of the teeth in one visit. Smile makeovers are possible with porcelain veneers, and we can even address misalignment with clear and comfortable plastic aligners.
For issues like tooth decay, damaged teeth, and infection, we can restore health and beauty with lifelike restorations. For example, our fillings are made from metal-free composite resin, and our crowns from lifelike materials like ceramic and zirconia, all of which can be shaded to blend with the smile seamlessly. If you have missing teeth, bridges, dentures, and even dental implants are available to offer durable, lifelike, and long-lasting solutions to minor or advanced tooth loss.
Better Homecare Habits
We're also eager to talk to you about your homecare options. Good oral hygiene habits in between your six-month visits are essential for keeping smiles of all ages strong and healthy. Kids and adults alike need to brush twice a day for two minutes, and floss every evening. Be sure you all use a fluoride toothpaste too. Kids three and younger need a rice sized amount, and everyone over the age of three needs a pea-sized amount. Be sure to also cut back on foods and snacks high in sugar and starch, as they leave behind particles that lead to plaque buildup and poor oral health. A healthy diet means a healthy smile.
When to Seek Treatment
Be aware of any changes to your smile in 2023. For example, if your teeth begin to ache or feel sensitive, let us know as this could mean tooth decay or an infection. Sore, red, and bleeding gums could ease gingivitis or the early stages of gum disease. Aches in the jaw and head could also mean trouble, such as TMJ disorder and bruxism. When you experience discomfort, always let us know!
Your Dallas, TX, Dentist Wants to Transform Your Smile in 2023
Now is a great time to make major changes for the health and beauty of your smile. For more information on boosting oral health in the new year, then please schedule a consultation by calling the Viva Dental Family Dentistry office nearest you at (214) 337-7800 (Dallas) or (972) 437-6000 (Richardson). We want to help you obtain a smile that fills you with confidence!