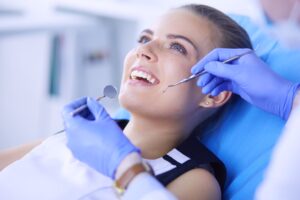 We want you to start a new year with a focus on your smile. By starting off January with a checkup and cleaning, you and your family can enjoy improved oral health in 2023 and beyond. In today's blog, your Richardson, TX, dentist talks about what to expect from a dental exam, and what makes this so beneficial for smiles of all ages.
Exams for Kids and Adults
The American Dental Association (ADA) recommends a checkup and cleaning visit every six months for kids and adults alike, and we agree! A dental exam enables our team to monitor smiles and identify possible concerns in the earliest stages, often before painful symptoms arise. For children and adults, this means watching for the earliest signs of tooth decay and infection. For kids, we also make sure teeth are erupting and falling out as they should, and we perform pediatric evaluation to ensure proper breathing and air flow at night.
For adults, we watch for gingivitis and gum disease, and can even screen for oral cancer once a year too. We also keep an eye out for indicators of TMJ disorder and bruxism (chronic teeth grinding and clenching) as well. If we find areas of concern, we can create a treatment plan to address them and improve oral health!
Preventive Treatments
Our team can also provide unique treatments to help protect little smiles. For example, we can use a topical fluoride gel to strengthen the outer enamel during each exam visit, lowering the risk of cavities. By applying dental sealants to the molars in the rear of rh mouth, we have a layer of protection to prevent cavities from forming in the areas kids have a hard time reaching when brushing and flossing. These sealants can stay in place for years to come! We also offer custom oral appliances, which can help adults by treating TMJ disorder and bruxism, and even helping you rest easier if you suffer from sleep apneas.
Dental Cleanings
In the same checkup visit, we will also clean the teeth. All ages benefit from a regular cleaning, as this allows our team to remove all plaque and tartar from the teeth. Removing this buildup is an excellent way to not only fight bad breath and teeth stains, but lower the risk of cavities, gingivitis, and even gum disease.
If you have any questions, or would like to schedule a preventive visit, then contact our team today.
Your Richardson, TX, Dentist Provides Family Dentistry
Our team wants to help you start a new year with a healthier smile. For more information on improving your oral health, then please schedule a consultation by calling the Viva Dental Family Dentistry office nearest you at (214) 337-7800 (Dallas) or (972) 437-6000 (Richardson).