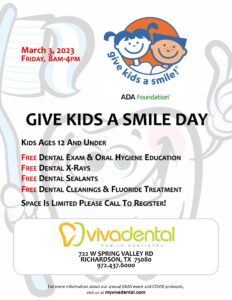 Each year, our office provides crucial dental care for children in our community as part of the Give Kids a Smile event. These free services can help kids who may not otherwise have access to dental care. In today's blog, your Richardson, TX, family dentist discusses when this one-day event occurs, and how to sign up your child for treatment!
Our Annual Event
Since 2003, dental practices across the country have participated in the American Dental Association's Give Kids A Smile event. The goal is to offer important preventive and general dental care for children who may not be able to afford routine dental care. We're proud to be taking part again this year, and look forward to helping little ones in Richardson and Dallas, TX, obtain the treatments necessary to enjoy better oral health and more comfortable smiles, and to help them gain a better understanding of their smiles and how to properly care for them from home.
What We're Offering
The event is for children ages 12 and younger, and for each child we will offer a free dental exam and oral hygiene education, so they can better care for their teeth and gums each day. We will take free x-rays, and then clean the teeth to remove harmful layers of plaque and tartar. This cleaning helps fight cavities and gingivitis! We also apply fluoride treatments to strengthen the outer enamel and keep cavities at bay. Dental sealants are also applied to the hard-to-reach rear molars, so food particles no longer become trapped there, lowering the risk of cavities.
Sign Up Today!
Sign up today, because these spots fill up quickly! The event takes place on March 3rd at our Richardson location on 722 West Spring Valley Road. You can give us a call at either of our locations to get a spot. We look forward to helping your children obtain stronger smiles!
Protecting Little Smiles
You can also talk to our team about scheduling a checkup and cleaning visit, and helping your children enjoy better oral health with routine care. We would love to talk to you about the insurance plans we accept and our financing options. We believe every child deserves the treatment necessary to keep their teeth and gums strong and healthy. If you have any questions about our Give Kids a Smile Event, or if you would like to set up an appointment with our team soon, then contact our Dallas or Richardson locations today!
Your Richardson, TX, Dentist Provides Better Oral Health for Kids
Our team wants to help children in our community enjoy better oral health. For more information on our approach to children's dentistry, then please schedule a consultation by calling the Viva Dental Family Dentistry office nearest you at (214) 337-7800 (Dallas) or (972) 437-6000 (Richardson).