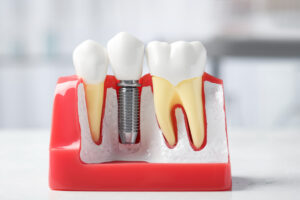 When you suffer from tooth loss, even a minor case, this could still threaten your oral health and smile stability. We want to offer a replacement option that not only fills the gap in your smile, but protects you from the loss of jawbone structure that often follows tooth loss. In today's blog, your Dallas, TX, family dentist explains how we address tooth loss with dental implants.
The Impact of Tooth Loss
When you lose a tooth, even a single tooth, this could lead to oral health complications for your smile. For example, the gap could lead to dental misalignment with time, as teeth drift due to the open spaces in your smile. People with missing teeth could also experience complications when they eat or speak as well. The changes to your bite's balance could increase the likelihood of TMJ disorder and bruxism (teeth grinding). As the body suspends the flow of calcium and phosphates the jaw around the lost root, this could mean a breakdown linked to further tooth loss and an aged appearance. To enjoy a full and beautiful smile again, you need replacement. Dental implants can help!
Planning Your Implant Placement
Our team will begin with a detailed examination of your smile, using digital x-rays and intraoral cameras to assess the state of your smile and choose the best place to insert your new teeth. We then employ digital technology to carefully guide the implant post into the jaw, at an angle and position that stimulates the growth of jawbone structure. Since the post is made from biocompatible titanium, this means the body sees it as a natural root structure. The jaw will no longer lose mass and density, and instead the strength of our jaw is preserved. Which means your new teeth have the potential to last for decades to come!
Restorations
What about the part people see when you smile? For an individual missing tooth, our team can attach an abutment to the post that extends above the gum line. We then attach a custom-made dental crown to the abutment, which ensures your tooth looks natural and handles daily bite forces. But we can also address multiple missing teeth with dental implants!
Fixed Dentures
For more severe cases, we could use several implant posts to secure a bridge or even a full set of dentures, so you can enjoy a full and beautiful smile. If you have any questions about implant dentistry, then contact our team today.
Your Dallas, TX, Dentist Provides Tooth Loss Solutions
We would like to help you enjoy a full and beautiful smile, one that preserves your facial structure. For more information on treating your missing teeth, then please schedule a consultation by calling the Viva Dental Family Dentistry office nearest you at (214) 337-7800 (Dallas) or (972) 437-6000 (Richardson).