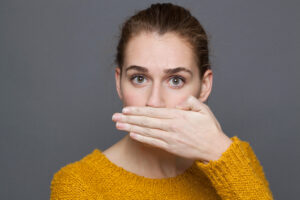 Nothing can make us feel self-conscious quite like halitosis. Chronic bad breath could often be related to our oral health, as well as our food and drink options. We have a few options to help fight halitosis so you don't have to feel embarrassed, and so you can enjoy better oral health. In today's blog, your Richardson, TX, family dentist offers solutions for your bad breath.
The Common Causes of Bad Breath
A number of factors could lead to poor breath, such as consuming large amounts of foods with a pungent odor, like onions or garlic. If you smoke cigarettes and use other tobacco products, this could lead to a foul odor, as well as a higher risk of oral cancer. Poor oral hygiene is another major cause. When we consume foods and drinks high in sugar, and don't take time to brush and floss properly, this allows harmful oral bacteria to break down and consume these particles. The teeth are coated in layers of plaque buildup, which creates a bad odor and over time, could increase the risk of tooth decay and gum disease, which in turn increases the severity of your halitosis. But taking action to improve your oral health can help freshen your breath!
Taking a Preventive Approach
At home, you should brush your teeth when you wake up and once again before going to bed. Be sure you use a fluoride toothpaste, and take at least two minutes to clean your teeth each time, ensuring you are removing trapped food and drink particles. In the evening before you brush for the second time, you also need to floss. When you floss, run the tape up and down each side of every tooth, and dip beneath the gum line. This reaches the trapped particles beyond the reach of your toothbrush. We also recommend a healthier diet, and plenty of water, as water helps cleanse the mouth of trapped particles.
At our office, we want to see you every six months. During the exam portion of this visit, we will watch for issues that could lead to bad breath, including tooth decay and gum disease. If necessary, we can create a treatment plan to address them. We also clean your teeth, a process that removes all plaque and tartar for the teeth. We then polish your smile to make it more difficult for plaque and tartar to adhere to the smile in between your visits.
Your Richardson, TX, Dentist Offers a Solution for Halitosis
Our team wants to help you enjoy bright smiles and better oral health. For more information on keeping halitosis at bay, then please schedule a consultation by calling the Viva Dental Family Dentistry office nearest you at (214) 337-7800 (Dallas) or (972) 437-6000 (Richardson).