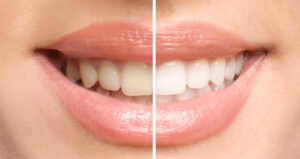 Do you want a brighter smile? Instead of struggling to obtain noticeable results with toothpastes and store-bought strips, why not seek professional cosmetic treatments? In today's blog, your Richardson, TX, dentist talks about the three different teeth whitening options we provide to remove stains and brighten smiles!
In-Office Teeth Whitening
We have an in-office teeth whitening procedure that can brighten smiles in only one visit, so you have stunning results in as little as one hour! The procedure is a simple one. We will apply a powerful bleaching gel to the surfaces of your teeth, which are chemically activated. No need for a light to activate the gel, as these have been known to increase tooth sensitivity. Teeth are often brightened by several shades. We recommend this option if you need quick results. For example, if you have a job interview, first date, or social event happening soon!
Brightening Smiles at Home
Our at-home option can tackle more severe staining and for some, could brighten teeth by up to eight shades. You first stop by our office so we can take impressions of your teeth and create a custom set of plastic trays. We then send these home with you, along with a powerful bleaching gel. Once at home, you will fill the trays with the whitening gel and wear them for a set amount of time. The exact time depends on the extent of your discoloration, but usually falls to about an hour a day. You repeat the process for about one to two weeks. The appliances and any remaining gel are then yours to use should you need touch-ups in the coming months.
Opalescence Go Trays
Finally, we have our Opalescence Go whitening trays! These are pre-filled plastic trays that contain a powerful hydrogen peroxide gel to remove stains and brighten your smile, without causing tooth sensitivity. You simply remove a tray from the packaging and wear it for a set amount of time, usually 20 to 30 minutes. These trays are portable and easy to use, and provide our patients with powerful results.
If you have stained teeth and want to see them brightened, then talk to our team about our professional teeth whitening options. We have three effective options available to remove your discoloration and help your smile with confidence again.
Your Richardson, TX, Dentist Offers Professional Cosmetic Treatments  
Our team wants to offer a brighter smile with professional teeth whitening, so you can smile without hesitation again. For more information on these unique treatments or any of our other cosmetic treatment options, then please schedule a consultation by calling the Viva Dental Family Dentistry office nearest you at (214) 337-7800 (Dallas) or (972) 437-6000 (Richardson).