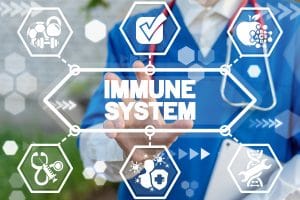 After being closed to help slow the spread of COVID-19, our office is finally ready to open! We'll have a soft opening beginning next week, which means we can see our patients in Dallas and Richardson, TX for general, preventive, and elective cosmetic treatments, in addition to emergency care and more. While you may feel hesitant about leaving the house and visiting our office, we want to remind you that the health of our smile has a major impact on our overall health and even our immune system as a whole!
Oral Health and Our Overall Health
Right now, many people are focused on improving their health, as this helps strengthen the immune system. However, few people realize that their mouths are the gateway to the body, and as such, our oral health has a major impact on our overall health and the strength of our immune system. For example, poor oral health often leads to the onset of plaque buildup, a sticky bacterial byproduct that coats our teeth. Over time, plaque inflames the gum tissues, leading to the onset of gingivitis and eventually, gum disease. Not only are these issues linked to sore, red gums that bleed easily, but the inflammation could also lead to weakened immunity, as well as a higher risk of issues ranging from diabetes and high blood pressure to heart disease and even a greater risk of Alzheimer's disease. Your weakened immune system then makes your body more likely to contract illness, including COVID-19. Fortunately, with an exam using advanced technology, our team can gain a snapshot of your overall health and identify possible areas of concern, treating them before your body's defense systems weakened further. With that in mind, now more than ever is the time to take your oral health seriously and attend regular visits for checkups and cleanings!
Avoiding Cavities, Gum Disease, and More
When you see our team for a routine visit, we not only perform a detailed exam to identify possible problems, we also clean your teeth. A dental cleaning means using an ultrasonic scaler and manual tool to completely remove all plaque from the surfaces of the teeth. We then polish the teeth for a smooth finish and brighter appearance. Performed every six months on average, a cleaning helps not only eliminate bad breath and fight teeth stains, but also limits the risks of tooth decay, dental infection, gingivitis, and even gum disease. If you haven't been able to attend an appointment recently, or we had to cancel or reschedule due to the COVID-19 pandemic, please let us know. A routine visit can not only help protect your smile and your overall health, but many of our preventive protocols could help eliminate the COVID-19 virus if it is present in the early stages in your mouth.
Our New Health and Safety Measures
As experts have said multiple times, one of the best ways to avoid the contracting COVID-19 or spreading it to your loved ones is to stay home and avoid crowds. For that reason, many families will be hesitant to schedule a visit and see us for a checkup and cleaning, or to receive crucial dental treatments. We understand your concern, but we don't want issues like periodontal disease or tooth decay to continue to grow more severe and threaten your smile and your overall health. To protect the health and safety of our patients, and for their own peace of mind, our team is practicing strict protocols, including:
Limiting patients in the waiting room
Requiring patients to wear masks
No-touch payment options
Health screenings prior to being seen, including taking temperatures and hydrogen peroxide pre-rinses
We've also implemented several new technologies. For example, to help ensure optimal air quality, our office now uses Puradigm medical-grade air filters with UV lights and oral evacuation units to capture aerosols. Our team will also use unique isolation systems to prevent exposure, wear N95 high-filtration masks, and use a HOCL disinfectant solution in a special fogger to safely sanitize the office throughout the day. And of course, who can forget the sneeze guards at our front desk? As you can see, we're taking your health very, very seriously!
We Treat Patients of All Ages
Grown-ups are the not only ones at risk of developing tooth decay and poor periodontal health. Children need checkups and cleanings too! Our team take steps to ensure your little ones feel calm, comfortable, and at ease during their time in the office. In addition to checkups and cleanings, we will also offer preventive means of avoiding tooth decay, such as fluoride varnish, dental sealants, and silver diamine fluoride, which halts the progress of cavities too small to require fillings. We want to make sure your entire family continues to enjoy bright, healthy smiles!
If you have any questions about our treatment options, or about our health and safety measures, feel free to contact our team today. We're ready to see you, and if you've recently been furloughed, we would love to offer treatment so you can use your dental benefits or flex-spending account funds before they expire. Remember, your oral health helps strengthen your immune system and protects your body from a myriad of related complications that could strain both your immune and cardiovascular system and negatively impact your overall health.
Ready to Schedule a Visit?
If you have dental insurance soon to lapse due to being furloughed, or if you haven't been able to attend checkups and cleanings, or if you have aching teeth or bleeding gums, then you need to see your dentist. Which is why we're excited to finally be able to open our doors and offer treatment for you and your family in a safe and secure environment. For more information on improving your overall health by treating your oral health, then schedule a consultation by calling the Viva Dental Family Dentistry office nearest you at (214) 337-7800 (Dallas) or (972) 437-6000 (Richardson). We're proud to serve residents of Dallas, Richardson, and surrounding communities with a comprehensive approach to family dentistry!