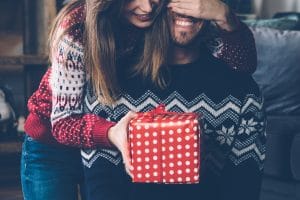 Can you believe that Friday is the last night of Hanukkah, and that Christmas is just a few days away? Now that the holiday season is officially well underway, many of us will be tempted by sugary favorites and relaxed habits as everyone enjoys a few days off. However, since oral bacteria doesn't take a day off you and your family need to take steps to protect smiles. In today's blog, your Richardson, TX, dentist explains what kids and adults can do to safeguard teeth and gums throughout the rest of 2020!
Brushing and Flossing Your Teeth
People of all ages need to continue brushing and flossing their teeth properly throughout the holiday season, so they can start the new year with a healthy smile. We should start by brushing first thing in the morning for about two minutes, reaching every available surface of your teeth. Whether your brush is electric or manual, make sure you have soft bristles, as this helps prevent inadvertent damage to enamel if you clean your teeth too rough. Before bed, you need to again brush your teeth for about two minutes. Make sure the toothpaste you use contains fluoride. A good way to make sure is to look for the American Dental Association's Seal of Acceptance on the packaging.
Flossing is even more vital, and reaches the bits food out of reach for your toothbrush's bristles. You should run the floss tape up and down the length of each side of every tooth, and dip below the gum line to extract trapped food particles. For children, a floss pick could be easier to use. You can also employ a water flosser if you prefer. You should do this every evening before going to bed!
Watch Out For Sugar and Starch
When we think about the holidays, we often focus on our favorite holiday dishes. Pies, cakes, dressing, biscuits and muffins, and other holiday favorites tend to be high in sugar or starch. These ingredients could become stuck to your teeth and be difficult to remove even if you brush and floss properly. To help prevent these particles from becoming stuck in your teeth and promoting harmful plaque and tartar buildup, we suggest limiting how many sugary or starchy items you eat. You can also drink water with your meal to help cleanse your smile, or even excuse yourself after your meal to floss your teeth. You may also consider eating more fresh fruits and veggies. Some, like fresh carrots, broccoli, and apples, could actually help scrub away plaque and tartar as you consume them. We don't want you to avoid your favorite desserts and treats completely, just take steps to help protect your smile!
Schedule a Checkup and Cleaning
Now is also a great time to schedule a checkup and cleaning, before we're out for the holidays and you run out of time. With your exam, we can take a close look at your smile using advanced technology, such as digital x-rays and intraoral cameras. We also implement new protocols and new technologies to help keep the office surfaces and air clean, preventing the spread of COVID-19 among our staff and patients. You visit allows us to identify common issues like tooth decay, gingivitis, gum disease, and even TMJ disorder and bruxism (teeth grinding). For adults, we screen for oral cancer, and for kids we look for issues related to the arrival of permanent teeth that could cause misalignment, as well as issues with obstructed air passages. Once we uncover a sign of trouble, we will craft a treatment plan to address these concerns. We can then start your journey now toward a strong, healthy, and beautiful smile for years to come. During the same visit, we also clean the teeth to remove all plaque and tartar, lowering the risk of cavities and periodontal issues in kids and adults alike.
Use Your Remaining Benefits
Once December 31st comes, you will have run out of time to use any remaining dental insurance benefits before they expire. If you have a health savings account, then you also have funds that could expire in midnight on December 31st as well. Instead of losing the benefits you earned and paid for, why not schedule a visit now to use them and start any necessary treatments. We can then continue care in 2021 when your new benefits become available to use. Our team know show to navigate the confusing world of dental insurance, helping you understand your coverage and what will be covered before we start any treatments.
Avoid Large Gatherings
Right now, COVID-19 still offers a serious risk for people in the Dallas and Richardson, TX, communities. To help keep you and your family safe, we urge you to wear masks when out of the home and around others. Wash your hands frequently avoiding touching your face, and be sure and get tested and self-quarantine if you notice trouble breathing, a dry cough, or exhaustion. You should also avoid large gatherings too, especially indoors, as the disease is spread easily through droplets in the air when we sneeze, cough, or even talk. Working together, we can all protect each other and stay safe until a vaccine is finally ready for use for the general public. If you have any questions about our treatment options, or about what you can do to keep your smile safe throughout the holiday season, then contact our team today.
Schedule a Visit With Your Richardson, TX, Dentist
Our team is ready to help guide you through the treatment process and start 2021 with a stronger and healthier smile, one you can't want to show off to the world. For more information on what you can do to keep your smile healthy and strong in the holiday season, then please schedule a consultation by calling the Viva Dental Family Dentistry office nearest you at (214) 337-7800 (Dallas) or (972) 437-6000 (Richardson). Remember, now is a great time to use your dental insurance benefits before they expire at midnight on December 31st!